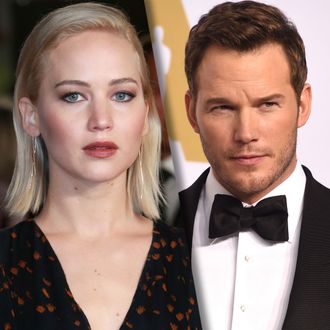 Lawrence and Pratt.
Photo: Getty Images
In The Hollywood Reporter's annual roundtable discussion with the actresses getting Oscar buzz, Jennifer Lawrence reveals that, five years and one Oscar into her career, she's only just now managed to go through that awkward rite of passage for any young actor: her first sex scene*. The good news is it was with Chris Pratt. The bad news is it was still weird as hell. "Everything was done right; nobody did anything wrong," Lawrence says of the scene in the duo's upcoming Passengers. "It's just a bizarre experience." She ended up dealing with her uncomfortable feelings the old fashioned way: by getting super drunk. Of course, that plan came with problems of its own: "That led to more anxiety when I got home because I was like, 'What have I done? I don't know.'"
The problem, Lawrence says, is that Pratt is married, a fact she found frustratingly hard to shake. "It was going to be my first time kissing a married man, and guilt is the worst feeling in your stomach," she explains. "And I knew it was my job, but I couldn't tell my stomach that. So I called my mom, and I was like, 'Will you just tell me it's OK?' It was just very vulnerable. And you don't know what's too much. You want to do it real, you want everything to be real, but then … That was the most vulnerable I've ever been."
*A reader informs us that Lawrence had a steamy scene with Bradley Cooper in Serena. Either she does not consider that a sex scene or, like everyone else, Jennifer Lawrence has forgotten about that movie.