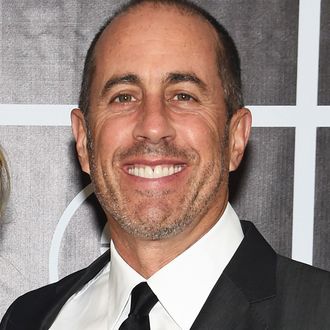 Photo: Jamie McCarthy/Getty Images
Last night, our pals at Grub Street caught up with Jerry Seinfeld and his wife Jessica at the Baby Buggy Gala to get his thoughts on Union Square Hospitality Group* mastermind Danny Meyer ending tipping in his restaurants. Turns out the comedian, who was once a waiter and is married to a former waitress (Jessica Seinfeld, who was terrible at that job, according to her), would be deeply sad to see the practice end, not just for the sake of the servers but because there's something intrinsically funny about the shame and secrecy of watching your friends try to do math in their head and out-generous each other. "Comedy-wise, I really like tipping," he told Grub. "I like the arguments. I like the weirdness. I like the whispering — there's no tipping without whispering. How much should I give? It's always done like it's illegal for some reason … like if you tip a car valet or a bellman, it all has to be done like we don't want to get caught doing this." Click here to read more Seinfeldian ranting on restaurants and why he prefers Lucky Charms and Pepsi to fine dining.
*This article has been corrected to reflect that Danny Meyer is the founder of Union Square Hospitality Group, not Per Se.