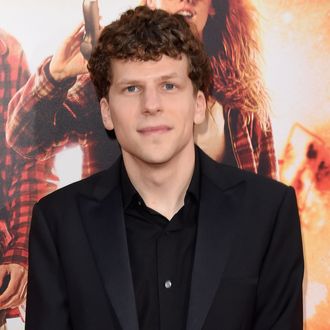 You charming rascal, you!
Photo: Jason Merritt/Getty Images
Tinseltown enfant terrible Jesse Eisenberg is at it again! In a story for the New Yorker's "Shouts and Murmurs," Eisenberg turns his poison quill toward film critics, penning a review of the fictional movie Paintings of Cole in the persona of an insecure, obnoxious journalist. As he writes, everything that could have gone wrong with the film, did: "It was inconveniently shown on the Upper West Side, written by a guy I envy, screened by a cute intern whose name was too confusing to remember, based on an idea that I poorly executed in grad school, and praised by the Times, which rejected me." Still, that doesn't stop him from offering a positive review, in the hopes that the studio will make it a pull quote. "I've always wanted to have my name on a movie poster" he concludes. "How cool would that be?"
Actual film critics took a break from complaining about faraway screening locations to tweet their displeasure with Eisenberg's jabs:
All of Hollywood is agog: What brilliant stunt will Eisenberg pull next?