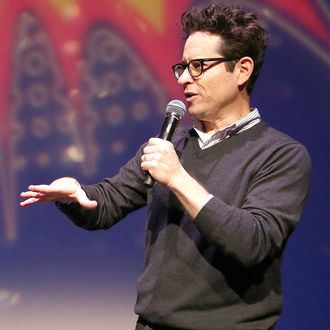 Photo: Paul Zimmerman/2015 Getty Images
J.J. Abrams will hibernate soon: In less than one month the sleep-deprived director's Force Awakens finally premieres. But there's still time for a few more plugs. At the annual fundraising centerpiece for the Montclair Film Festival — which kicks off at the end of April — Abrams joined Stephen Colbert at the New Jersey Performing Arts Center's main hall Saturday night for an extensive celebrity nerd-off in front of an audience of nearly 2,800. The 90-plus-minute discussion summarized the Bad Robot honcho's rise from script doctor to sci-fi hotshot, included loads of Abrams-Colbert trivia (the latter auditioned for the former's first script, which became Taking Care of Business), and somehow managed to provide even more fuel for the Star Wars hype machine. Read on for the highlights (and one unrelated gem):
1. The Force Awakens is basically done.
On Saturday morning, "at 2:30 in the morning, we finished the mix of the movie," said an energetic, but definitely jet-lagged, Abrams, "and then I left because we had to get to the Montclair Film Festival." According to the director — always a perfectionist — he just has "six little things left" to tweak upon his return to L.A.
2. See ya later, lens flares.
Abrams, over the years, has become notorious for his proclivity for lens flares, especially in his last two Star Trek installments. "As you'll see in the Star Wars movie, I've allowed lens flares to take a very backseat [role]," he said, though Colbert ribbed he spotted three in the latest trailer. "We're making sure it looks photo-realistic," Abrams added, because "every time there could be a flare … I said, 'This is not the movie. These are not the flares you're looking for.'"
3. BB-8 is real and important.
The cute yoga ball of a droid exists IRL, because Abrams wanted to avoid abusing CGI. "The thing is, this droid, this character is going to be an important character in the movie," Abrams said, noting that since so much of this film stands on the shoulders of the previous six movies, he wants Force Awakens and its characters to acknowledge what came before. The original blueprint for the droid was something like a snowman, an idea Abrams handed to his creative team with the desire to make something that would exist within original Star Wars designer Ralph McQuarrie's vision.
And Abrams wants the rest of the movie to feel similarly real, too: He shot Force Awakens on Kodak film and stayed away from manufactured sets whenever possible. "When you're watching those two droids walking across the desert, supposed to be Tatooine, we may have known it was Tunisia, but we knew for sure when we were watching it that it was real," he said. Episodes IV, V, and VI looked like no other sci-fi adventure he'd ever seen before; that feeling's the goal for VII.
4. Abrams friggin' loves the Force.
"Here's what I loved about it: A) It makes perfect sense. B) The idea that we are all connected in some way is such a powerful idea," he said. "I do feel like the idea of it being a religion without a God — we are all connected by an energy force — that, as an 11-year-old, made sense." He said he loved leaving the theater and feeling that the Force was something you could harness, too. "It was a non-denominational, powerful idea that was really important to us in this film," he added, noting another component of the original movies he has worked into his. He wants Force Awakens to have that "little bit of magic and have that hope that was at the center of the story."
Bonus: Tolkien alert!
The night wouldn't be a true celebrity nerd-off event without Colbert addressing something Tolkien-related. In an unrelated portion of Abrams's Q&A, an audience member asked Colbert to pick a Middle-earth dream project for the director. "I would ask him to make what's called the 'Akallabêth,'" Colbert explained, referencing the fourth part of the legendary author's Silmarillion collection. "It's got all your greatest hits in it: It's got elves in it, it's got Sauron — Suaron's actually captured … who at the time still has the damn Ring," he continued. "It's a perfect story; it's complete. If anybody makes anything from the Silmarillion, it should be that movie." Your move, Abrams.