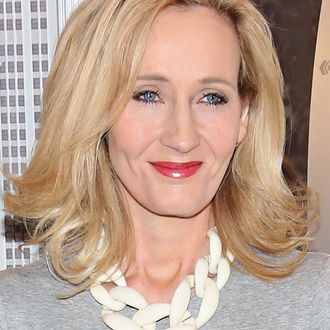 J.K. Rowling.
Photo: Cindy Ord/Getty Images
In an interview with BBC Radio 2's Simon Mayo on Tuesday, J.K. Rowling revealed that, while she has enjoyed writing as Robert Galbraith very much, she still has plans to publish under her own name in the future. "'I'm not going to give you an absolute date because things are busy enough," she says, but when it comes to becoming J.K. Rowling again, she has plenty of options: "I have so many ideas. I have written part of a children's book that I really love, so there will be another children's book. And I have ideas for other adult books … I sometimes worry I'll die before I've written them all out. That's my mid-life crisis."
Rowling did not reveal whether those stories were about the Boy Wizard Who Must Not Be Named, but she did offer a hint of her feelings when discussing the upcoming play Harry Potter and the Cursed Child: "I always said, I'm not going to say 'Never' [to another Potter story] because there were things I had in my head … I personally had no particular desire to write it as a novel for reasons that I think will become clear when people see the play." Mysterious!