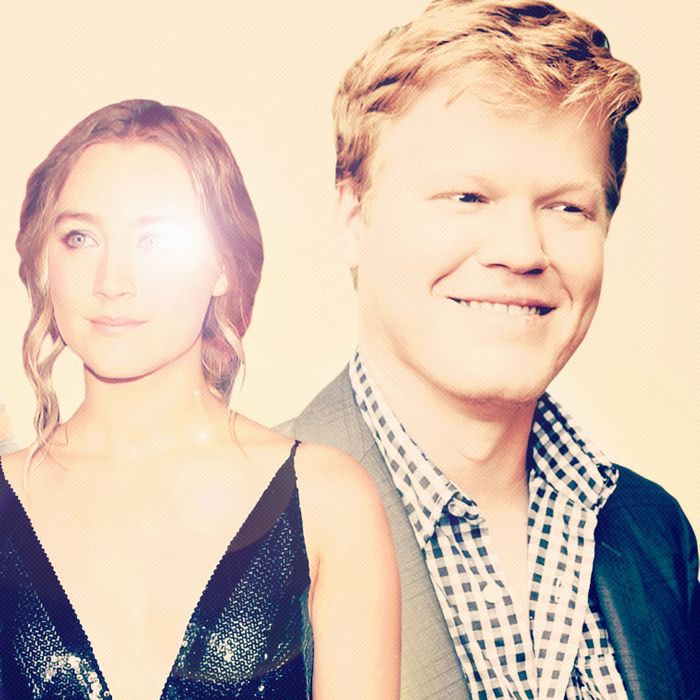 Photo-Illustration: Maya Robinson and Photo by Getty Images and LucasFilms
As Vulture's Most Valuable Stars list proves, a single role can change a movie star's entire trajectory — and sometimes it's a role the star didn't get. Saoirse Ronan spent most of last spring filming Brooklyn, the well-reviewed drama that's likely to win her a Best Actress nomination and up her dramatic bona fides with studio executives. However, in another world — a world you might find, say, in a galaxy far, far away — she would have spent last spring filming Star Wars: The Force Awakens, a movie that would have significantly upped Ronan's box-office score, and one that she's admitted to auditioning for. "To pretend that you have a lightsaber in a scene is always very exciting," Ronan told the Playlist. "But [the movie is] something that everyone's gone up for."
She wasn't kidding: Though director J.J. Abrams eventually settled on relative unknowns Daisy Ridley and John Boyega to play the leads in Force Awakens (and cast up-and-comers like Oscar Isaac and Domhnall Gleeson in other key roles), he met with just about every actor in town while casting. Breaking Bad and Friday Night Lights alum Jesse Plemons was rumored at one point to be the front-runner for the part Boyega eventually got, while Ed Speelers, Matthew James Thomas, and Ray Fisher came close to nabbing it, too. It's unclear what roles Chiwetel Ejiofor, Michael B. Jordan, Jack O'Connell, Alex Pettyfer, and David Oyelowo were up for, but they're all said to have met with Abrams at some point, while buzz had it that Benedict Cumberbatch flirted with playing a secondary villain in the film, likely either Andy Serkis's Supreme Leader Snoke or Gwendoline Christie's Captain Phasma. How much would Star Wars have upped the ante for those near-miss actors? Check in next year, when the massive movie is likely to have launched Boyega, Ridley, and Isaac onto the Most Valuable Stars list.

Though the filmmakers would rather have conducted their casting searches out of the public eye, it's harder than ever to keep those short lists secret, thanks to prying reporters, loose-lipped actors, and agents eager to get their clients into contention. That's how we learned that Joseph Gordon-Levitt was Paul Rudd's main competition for the title role of Ant-Man (a movie that surely would have boosted Gordon-Levitt at least ten slots up from his current place at No. 61 on the MVS list), or that after Charlie Hunnam bailed on Fifty Shades of Grey's male lead, actors like Scott Eastwood, Theo James, and Billy Magnussen vied to play Christian Grey before Most Valuable Stars newcomer Jamie Dornan was eventually cast. Often, the first A-lister wooed will decline, like Emma Watson (who passed on Kingsman: The Secret Service's female lead), Chiwetel Ejiofor (who said no to the role Andrew Scott eventually played in Spectre), or Jessica Chastain (who was eyed for the Mission: Impossible — Rogue Nation part that made a star out of Rebecca Ferguson).

Mission: Impossible star Tom Cruise famously bailed from starring in another one of this year's espionage thrillers, The Man From U.N.C.L.E. (he was replaced by Man of Steel star Henry Cavill), but given the film's meager box-office returns, perhaps Cruise made a wise choice. Other bullet-dodgers include Room breakout Brie Larson, who was the runner-up to play Sarah Connor in the miserable Terminator: Genisys (the fact that she ended up in the former rather than the latter will likely land her on MVS next year); Javier Bardem, who passed on playing villainous Blackbeard in the flop Pan; and a whole host of actors who once had been in the mix for summer bomb Fantastic Four, including young men like Kit Harington and Jack O'Connell, and actresses like Allison Williams and Margot Robbie.

In the realm of animation, actors may voice entire roles before rewrites squeeze them out: Just ask Colin Firth, who played the CG-animated Paddington before the chirpier Ben Whishaw took over, or Judy Greer and Bill Hader, who were eliminated from The Good Dinosaur after a mid-production revamp aged down the dino siblings they were cast as. And when movies take a while to find financing, the original stars often must move on. That's why While We're Young lost Cate Blanchett and James Franco for the roles that Naomi Watts and Adam Driver eventually played, and why Tina Fey and Michael Caine dropped out of The Intern as director Nancy Meyers struggled to find a studio home for it (and, after first wooing Reese Witherspoon to star, finally locked in Anne Hathaway and Robert De Niro).

Then there are the actors who simply weren't the right fit. The boxing drama Southpaw was originally conceived to star Eminem, but the rapper would have had to shed weight to star in it, and he dropped out of the film just before training began, ostensibly to focus on his music career. (The producers then moved on to Breaking Bad's Aaron Paul, but Harvey Weinstein insisted on casting the far more famous Jake Gyllenhaal.) Most Valuable Stars topper Jennifer Lawrence met with Quentin Tarantino to play the only female role in The Hateful Eight, but when talks didn't work out, QT reconceived it around the very different Jennifer Jason Leigh.

Meanwhile, Leonardo DiCaprio and Christian Bale famously passed on the title role in Steve Jobs while Natalie Portman bailed on the part that went to Kate Winslet, and they're not the only male-female duo in the movies that might have looked totally different this year: Ben Affleck and Kristen Stewart were originally set for the Will Smith–Margot Robbie romance Focus, while Benedict Cumberbatch and Emma Stone were meant to play Crimson Peak's central couple, roles that eventually went to Tom Hiddleston and Mia Wasikowska (actors who've not yet made the Most Valuable Stars list, and likely won't based on Crimson Peak's underwhelming returns). Wasikowska had also once planned to star opposite Cate Blanchett in Carol (in the role that Rooney Mara then took), but the season's most gender-bending what-might-have-been surely concerns the cast of The Danish Girl: While director Tom Hooper cast Oscar winner Eddie Redmayne in the role of transgender pioneer Lili Elbe, the film was almost made years ago with Nicole Kidman playing Lili for director Lasse Hallström, while Charlize Theron, Gwyneth Paltrow, and Rachel Weisz were all circling the role of Lili's wife, a part Alicia Vikander plays in the finished film. It's likely the only time that Eddie Redmayne has ever taken a part earmarked for Nicole Kidman, but given how wildly different some of these projects became after one simple casting tweak, who can say?