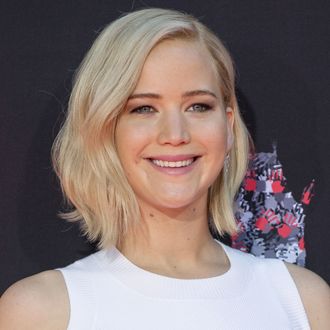 J.Law.
Photo: Mario Anzuoni/Corbis
When they're not jet-skiing or building friendship pyramids, Jennifer Lawrence and Amy Schumer have been hard at work on their script for a new movie. But what is this movie about? Schumer said that it would be "funny," "dirty," and "real" (which, duh) and Lawrence agrees! "Yup, it is all of those things," Lawrence told Entertainment Tonight during a press tour for The Hunger Games. In this film, Schumer will play the responsible one. "Amy, in this movie, she has it very together. It's her lifelong dream to be a flight attendant. She works at the airport," Lawrence said. "And I'm a mess."
When Lawrence first broke the news, she said that she and Schumes were both "creatively made for each other." She continued to elaborate on that point. "We both have very similar senses of humor, obviously, and aren't afraid, which is a good and bad thing, because I don't know what our movie will be rated," she said. "And we're both very blunt. So we've gotten through a really strenuous process without ever fighting, because we're both very straightforward." When the ET reporter asked if her male co-stars Peeta and Gale could be in it, she said definitely not. "No, no, no, no, no … There's not really boys in it." Girls rule and boys drool!