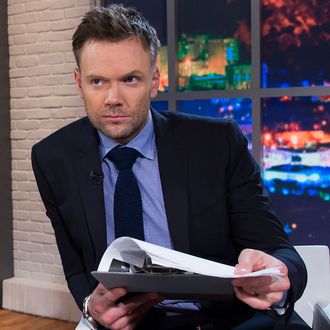 Farewell, Joel McHale.
Photo: E! Entertainment
Community is gone, and now Joel McHale's clip show The Soup is following suit. THR reports that E! is ending the show 12 years after McHale helmed a reboot in 2004. (Its earlier iteration began with Greg Kinnear as the host of Talk Soup back in 1991.) "Joel took the show to new heights for more than a decade, and his irreverent humor and unique brand of comedy as captured so perfectly on The Soup will be missed," the network said in a statement. Of course, E! is probably relieved, considering the Kardashians haven't really appreciated his jokes about them. The final episode airs December 18. Farewell, you weird little show.