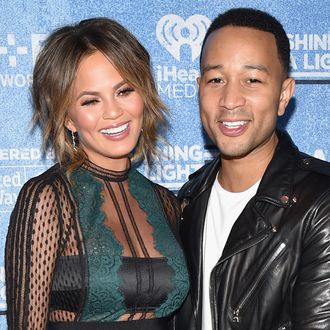 Teigen, Legend.
Photo: Mike Windle/Getty Images
The long weekend proved to be surprising for Chrissy Teigen, as she was majorly treated by John Legend ahead of her fast-approaching birthday. (Happy Birthday!) The singer-songwriter threw a party for his wife Saturday at New York's Comedy Cellar, secretly inviting family and friends to join in on what sounds like the cutest of times. As part of the festivities, Teigen and attendees enjoyed Momofuku, a comedy set courtesy of Dave Chappelle (who reportedly had a joke about putting a Trader Joes in downtown Syria), and music from DJ Nice:
"I can't imagine a single thing more I wanted out of my twenties," Teigen, who turns 30 on Monday, tweeted afterward. "Greatest friends and family ever, ever, ever." Of course, the cherry on top was probably being serenaded by Legend — which is something that should happen to everybody when they turn 30:
Because this couple just can't stop. For more from the party, head here.