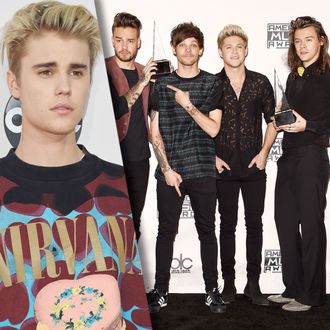 Turns out, rivalries are good for business.
Photo: Getty Images
It's true: Everyone is a Belieber these days. Justin Bieber just scored the sixth No. 1 album of his crazy-short five-year career with Purpose, and this time he did it in style. Usually when the Biebs drops an album, it's a lock for the top spot, but last Friday he had viable competition in One Direction, who released their fifth album, Made in the A.M., on the same day. The rivalry divided households and teen fandoms for weeks, but now we finally have a winner: Billboard reports that Bieber outsold One Direction by nearly 200,000 albums, setting the mark for the biggest-selling first week of 2015, which is impressive for a number of reasons.
First, neither album was expected to debut with more than 300K in sales, but both Biebs and 1D nearly doubled their odds. Biebs sold a remarkable 649,000 units — the biggest first week since Taylor Swift over a year ago — breaking Spotify's record for most album streams in a week (205 million global) in the process. But the debut was also better than projected for One Direction (106 million global streams), who sold 459,000 units in their first week, landing them in second place. For the first time in eight years, two albums have now sold more than 400k in their first week.
Albums aren't supposed to sell anymore, but the last two months of 2015 are proving the projections wrong. Bieber's sixth No. 1 album is also his biggest to date: 522,000 of those units came from "pure" album sales; his last album to even come close was 2012's Believe, which sold 374,000. (More proof that Bieber's fandom has broadened.) The only other album to sell more than 500,000 in its first week this year was Drake's If You're Reading This, It's Too Late (535,000), which was the biggest debut of 2015 until Biebs rained on his parade.
Of course, none of this will matter by the end of the week: Barring any sabotage, Adele's 25 will enter the Billboard 200 with the biggest first-week sales in history. Early estimates say the album (which isn't even streaming) was downloaded on iTunes more than 900,000 times on its first day alone and has sold 2.3 million albums in three days. Adele was previously projected to pass NSync's 15-year-old record of 2.4 million albums in one week; now some are asking a question that was thought to be impossible: Can she do 3 million?