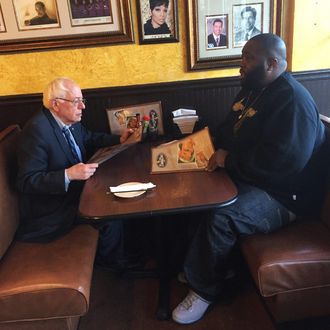 What a presidential ticket.
Photo: WPJohnWagner/Twitter
Killer Mike sadly isn't running for president (though he did try to run for Georgia state representative), but earlier this year he did the next-best thing and endorsed Democratic presidential candidate Bernie Sanders. To prove just how much he's feeling the Bern, on Monday, the Run the Jewels rapper took Sanders on a tour of his hometown of Atlanta, making stops for some authentic soul food at Busy Bee and a look at his barber shop. Obviously, they became fast friends, because who doesn't love Killer Mike?
But it wasn't just some campaign photo-op: The whole hangout led up to Killer Mike's impassioned speech at a Sanders rally that night, where he blasted the idea of having to live through another Reagan or Thatcher era, quoted his song "Untitled," and listed his reasons for supporting Sanders. "In my heart of hearts, I truly believe that Senator Bernie Sanders is the right man to lead this country," he said.