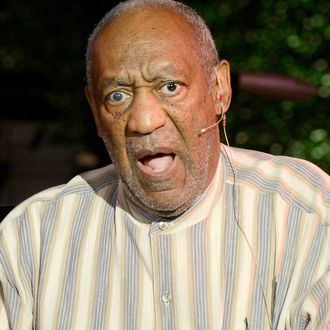 Cosby.
Photo: Michael Buckner/2012 Getty Images
Another woman who last year accused Bill Cosby of sex assault has filed a defamation suit against the comedian, according to reports. This one comes from Kristina Ruehli, 72, the former L.A. secretary who first told Philadelphia magazine of a lights-out encounter that happened roughly five decades ago at Cosby's house. Ruehli and her legal team filed the federal suit Monday in Massachusetts, claiming that Cosby and his former lawyer defamed her by labeling her a liar after they publicly accused him. "It is one thing for an accused sexual assailant to remain silent and allow the legal process, or public opinion, to run its course, but it is quite another for him to unleash his agents to deny that he attacked the plaintiff and other women, to invite others to republish his statements, and to brand them as unreliable liars," reads the suit, which seeks unspecified damages, according to Reuters.
Ruehli joins a handful of other accusers who have mounted defamation cases against Cosby. "Ms. Ruehli stands ready to tell her story, under oath, to a jury of her peers and allow them to pass judgment and affirm that Ms. Ruehli's account, like so many others, is true, and the only other person in the room that night in 1965 surely knows it," Ruehli's lawyer said in a statement released to the media Monday. In addition to this latest suit, an L.A. Superior Court judge ruled earlier this month that Cosby and his former lawyer could be deposed in Janice Dickinson's defamation case. Revealing portions of a transcript from a 2005 civil case were already released earlier this year, and Cosby's most recent round of deposition answers will unseal December 22. Ongoing legal woes aside, the embattled entertainer has not been criminally charged.