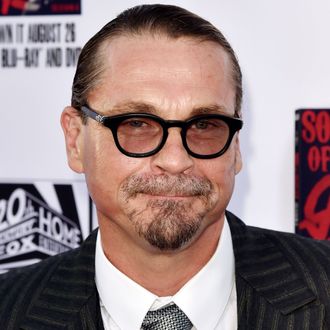 The executioner.
Photo: Kevin Winter/Getty Images
Kurt Sutter has given his show The Bastard Executioner the ax after one season. Sutter publicly announced the show's demise by taking out full-page ads in trade publications like Variety and The Hollywood Reporter. He wrote, "The audience has spoken and unfortunately the word is, 'meh.'" "It's fantastic to get a good review [or] an award, but at the end of the day the only thing that matters, really, is numbers," Sutter told THR. "I'm not the guy sitting in my ivory tower spitting shit out and not caring if anyone is watching … I don't want to write something that nobody's fucking watching."
Ultimately, while he says he loved the mythology of the show, it came down to the numbers. The ratings never reached the highs of his previous show, Sons of Anarchy, which set records for FX. Instead, The Bastard Executioner fared much worse, losing more than half of its viewership in six weeks, starting with 4 million combined viewers for its premiere and dropping to just 1.9 million for episode six. "When you're in that mode, it's just purely numbers," said Sutter. "And look, it's obviously an expensive show and a high-profile show. I think it was as heartbreaking for [John] Landgraf as it was for me … But at the end of the day, if you can't sustain it, you can't do it." Uno tempore.