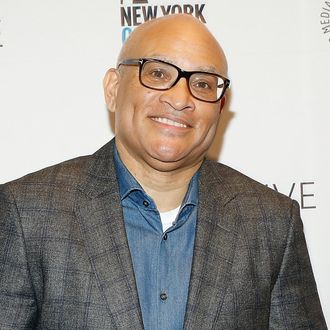 Wilmore at the Paley Center yesterday.
Photo: John Lamparski/Getty Images
Putting out a comedy show in a time of crisis is a balancing act, and Larry Wilmore knows that as well as anyone. We caught up with The Nightly Show host before his appearance at the Paley Center on Saturday, when the news from the terrorist attacks in Paris Friday was fresh on everyone's minds, to discuss how he plans to cover the violence. "These kinds of situations are tough, because you react to them in real time. We're going to talk on Sunday night and see what kind of show we want to do," he said. Known for addressing seriously unfunny topics in his show's roundtable discussions, Wilmore said he hopes to find a balance between levity and real talk.
"What's cool about our show is that we have a discussion portion built in. But I'm hopeful we'll be able to deliver some comedy, because sometimes people need to laugh in these times."
Though he may have had a plan moving forward, Wilmore himself was still grieving. "My emotions are so in outrage, so even if I start talking about it … It's such a cold-blooded thing to do. My heart really goes out to the people of France. They've been through a lot," he said, recalling the Charlie Hebdo massacre earlier this year. "This is different from Charlie Hebdo," he added. "This is just a strict ISIS attack on France. ISIS does this thing where they choose what are called 'soft targets.' So they're not even strategic. It's so wrong, everything about it is so wrong and it's so medieval."
Onstage, Wilmore addressed the attacks in Paris once again, invoking the wisdom of Nightly Show executive producer Jon Stewart in the process. "[We] try to find the humanity in the story, first of all," he said. "Jon had the same idea on The Daily Show. What is the humanity? You try to pull that out of it. And if we can pull out the humor through the humanity, that's what we'll do."