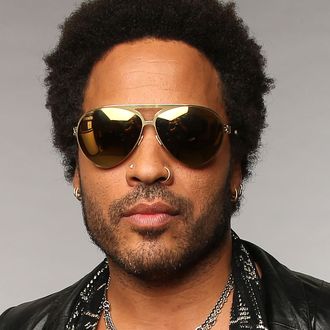 Lenny Kravitz.
Photo: Christopher Polk/2013 Getty Images
After reflecting upon last week's devastation in Paris, Lenny Kravitz has become the latest in a slew of celebrities to share his thoughts on the attacks. The part-time Paris resident told Rolling Stone this week how he learned of the bloodshed and how it affected — and has continued to affect — him. "Whether it was anybody I knew or not, it hit a chord with me and I'm deeply concerned," he said, acknowledging and mourning the fact members of the music industry were counted among the victims. The musician-actor also expressed his grief with regard to the implications of such a tragedy, and how "it could happen anywhere" now — especially at other magnetic, international venues like Le Bataclan.
He underlined his global perspective in this closing excerpt:
I'm not worried about returning to Paris. I was in New York for 9/11. Things bounced back. But in general, I think life is changing. You'll definitely think about it when you're sitting in a café or in a restaurant. Obviously, we're talking about France and these people, but at the same time, these things are going on all over, in Lebanon, Syria, Africa. I'm concerned about this on every level for everybody. It's not just "pray for Paris" — it's "pray for the world."
For Kravitz's whole piece, in which he also shares some of the information he was initially given, head here.