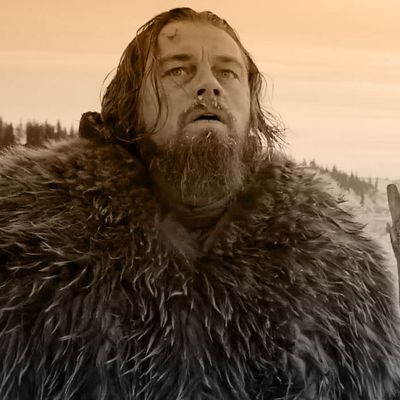 Photo: Twentieth Century Fox
One of Oscar season's biggest question marks, the survival drama The Revenant, finally screened for press in Los Angeles last night. Reviews for the film are still embargoed for several days, but awards-season analysis is not, and given that the film is made by Alejandro González Iñárritu, the man who directed last year's Best Picture winner, Birdman, expectations were running high. So, which Oscar categories could this mammoth movie factor into? We'll break down the races and their odds below.
Let's start with the big one, Best Actor. Four-time acting nominee Leonardo DiCaprio has famously never taken home the gold, and it's been presumed all year that The Revenant, where he plays out-for-revenge fur trapper Hugh Glass, will give him his best shot at an Oscar. Having seen the film, I'm inclined to agree, not just because DiCaprio gives his all to the role, but in large part because he doesn't have overwhelming competition this year. (DiCaprio's two strongest rivals may be former co-stars Matt Damon and Johnny Depp, neither of whom feels like a front-runner just yet.)

This is more of a physical performance than a verbal one — after his throat is slashed by a bear and he's left for dead by his comrades, it's not like Glass is capable of much conversation, anyway — and DiCaprio fully commits to it, delivering a spittle-speckled, blood-soaked revenge turn that successfully exterminates every last vestige of his teen-dream twinkdom. The making of the movie in subzero conditions was nearly as arduous as it looks, and Oscar voters favor actors who've been put through their paces. Taken in concert with DiCaprio's "he's due" narrative — and the fact that the actor has now entered his 40s, a sweet spot for men to receive Academy recognition — he's well positioned to finally win.

I'm still not sure what's going on with the crowded, utterly up-for-grabs Best Supporting Actor race, but The Revenant's Tom Hardy makes a good case for his inclusion. He plays Fitzgerald, a grudge-holding trapper who betrays Glass and flees the scene, and while he has every reason to believe that the weakened Glass won't survive in the wilderness, you can see in Hardy's antic eyes that Fitzgerald's frontiersman's intuition is telling him otherwise. Since our protagonist is nearly nonverbal, it falls to Hardy to shoulder most of the film's Oscar monologues, which he delivers in a quirky 1800s accent that almost recalls Kathy Bates's Baltimore brogue from American Horror Story: Freak Show. (It's weirdly delightful.) The debit against Hardy is that Oscar voters can sometimes be too put off by a wily bad-guy turn — sometimes they're tickled by a comic performance, like Christoph Waltz's winning turn in Inglourious Basterds; and sometimes they're repelled, as they were with a should-have-won Ralph Fiennes for Schindler List. Plus, Idris Elba is already trying to get that villain vote for his contending Beasts of No Nation performance, and this category is highly competitive.

Aside from DiCaprio, I think The Revenant's strongest shot at Oscar comes from Best Cinematography candidate Emmanuel Lubezki, who would manage an unprecedented three back-to-back wins if he takes home the gold. What Lubezki does here with natural light is stunning — even more so because it's coming on the heels of two very different visual challenges that Lubezki aced in Gravity and Birdman — and I suspect that after The Revenant, he'll go from simply being considered one of the great cinematographers to making a strong case for greatest of all time. Ironically, his strongest competition may come from another wintry frontier epic, The Hateful Eight, which was shot in 70mm by venerated veteran Robert Richardson.

There are a whole lot of other below-the-line categories where The Revenant could contend, pumping up its eventual nomination total to a point that only The Martian may be able to match. Twin trophies for Best Sound Editing and Sound Mixing are very much in reach, while the film's dozens of fur-laden frontiersmen may merit a Best Costume Design nod. I think the movie deserves recognition for Best Film Editing for one moment alone, a stunning, Malick-worthy interlude where the nearly expired DiCaprio fogs the camera lens with his breath, as the movie then match-cuts to abundant gusts of heavenly fog rolling down those formidable frontier cliffs.

Since Glass's voice box is slashed, the aural stamp on most of his scenes is administered by Ryuichi Sakamoto, Carsten Nicolai, and Bryce Dessner, who deliver a memorably disorienting candidate for Best Original Score. If voters understand just how much work went into crafting and cultivating those great outdoors, Best Production Design is within reach; while a dark-horse category that The Revenant could contend in is Best Visual Effects, since this thing's got more computer-generated beasties than Jumanji, including that terrifying grizzly bear that bites and slashes at DiCaprio in one long, unbroken, have-mercy take.

Can Iñárritu take home back-to-back Best Director nods? He'll almost certainly be in contention for that final five — and he has a strong shot for the Best Adapted Screenplay candidate he co-wrote — but Iñárritu has not made a movie that's easy to love, and a win will be hard to come by, especially in a year when the overdue Ridley Scott is contending with a crowd-pleaser. The Revenant is a bloody, brutal, experiential roller-coaster ride — you feel by the end that you have survived something, too. Many older or more squeamish Academy members will want to get off, which will handicap the film as a potential Best Picture winner. But much like Glass, the fortitude of those who love The Revenant should not be underestimated: Birdman was polarizing, too, but the passion it inspired in its partisans is exactly what put it over the top with Oscar.
For more about Leo and The Revenant, as well as a look at Creed, The Danish Girl, and the Independent Spirit Award nominations, listen to Vulture and The Frame's "The Awards Show Show" podcast below—and be sure to subscribe to stay on top of this year's awards conversation.