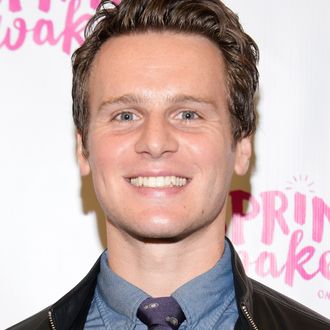 Groffsauce himself.
Photo: Jenny Anderson/Getty Images
Taking a break from filming the Looking movie, which will wrap up the canceled HBO series, Jonathan Groff spoke about his career at the Curran Theatre in San Francisco and divulged a few secrets from the set. Broadway World reports that Groff shared, "there's a lot of sex. I don't want to say who it was with, but I just shot the most intense sex scene I've ever done." So expect scenes more intense than Groff's sex against a tree in the middle of the forest with Russell Tovey and anilingus with Raúl Castillo.
Groff also shared that he's proud of how the series represents sex between gay men on television. He said, "One of the cool things about Looking is that after the first season, a lot of people — shockingly, liberal, open artists in New York and L.A. — said they didn't know that gay people could have sex while facing each other. The show illuminated intimacy in [gay] sex without being porny or salacious." So there'll be a lot of Groffsauce in the film, but, you know, tastefully done.