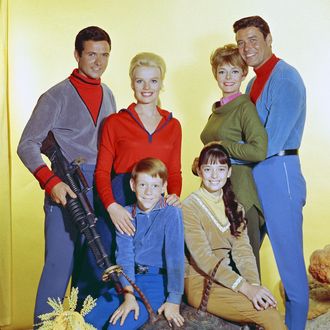 Just a casual family photo.
Photo: CBS Photo Archive/1965 CBS Photo Archive
For all those '60s kids left out of '90s nostalgia, Netflix is hard at work on a reboot of the 1965 TV classic Lost in Space, Deadline reports. The project, based on the series that originally followed a family of explorers that end up — you guessed it — lost in space, is described as an "epic but grounded" science-fiction saga. Neil Marshall (The Descent, Game of Thrones) is set to direct with a script from Matt Sazama and Burk Sharpless (Dracula Untold). The original series ran for three seasons and its opening credits were famously scored by John Williams. There's no word on which actors Netflix will force into matching jumpsuits for the new run.