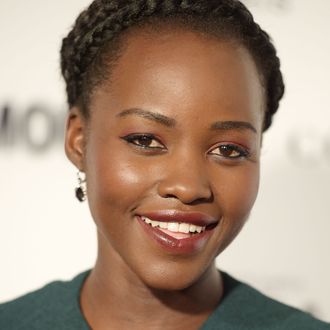 Surprise, nerds!
Photo: Dimitrios Kambouris/2015 Getty Images
Ever since Lupita Nyong'o first joined the Star Wars cast, we've known that she's playing some sort of motion-capture character, and now, thanks to EW, we've finally seen her face — or rather, been told that we were looking at her all along. In the film, Nyong'o plays Maz Kanata, a small alien whose eyes have mysterious properties. That's her next to Nyong'o in the photo below:
Yes, if that little creature looks familiar, that's because she was on the poster THE WHOLE TIME.
Both J.J. Abrams and Nyong'o kept the details of Maz's involvement in the Force Awakens plot to themselves, though we do know that, according to Abrams, "Her history is that she was a pirate for a long time … She's lived over a thousand years. She's had this watering hole for about a century, and it's like another bar that you'd find in a corner of the Star Wars universe."
And, just to rub things in, Abrams also revealed that it was Nyong'o narrating the eye-focused TV spot that came out earlier this weekend.
Finally, a friendly reminder that Nyong'o is also playing a CGI character in the new Jungle Book adaptation, so, if Hollywood isn't careful, we could be stuck playing "spot the unrecognizable version of People's 2014 Sexiest Woman Alive" for years.