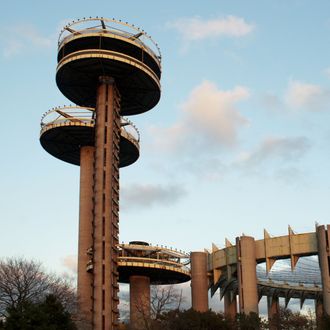 Flushing Meadows Corona Park.
Photo: Michelle Levante/Getty Images
Apparently, everyone wants a New York City music festival, and they want it at the exact same spot. The New York Post reports that Madison Square Garden is planning to throw an outdoor music festival in Flushing Meadows Corona Park, which, as the Daily News reported in September, is the same location that Coachella organizer AEG wants for its own planned music festival (possibly called Panorama) next June. AEG's plan in turn drew ire from the people behind Governors Ball, which has taken place on Randall's Island every June since 2011. (Randall's Island is roughly seven miles away from Flushing Meadows.) The Governors Ball trio recently petitioned New York City mayor Bill de Blasio to block AEG's festival from happening, and now it looks like they may have to compete with another music giant, as MSG reportedly plans on scheduling its festival the weekend of June 24–26, potentially one week after AEG's festival and three weeks after Governors Ball. How about whichever fest books LCD Soundsystem's never-gonna-happen reunion first wins?