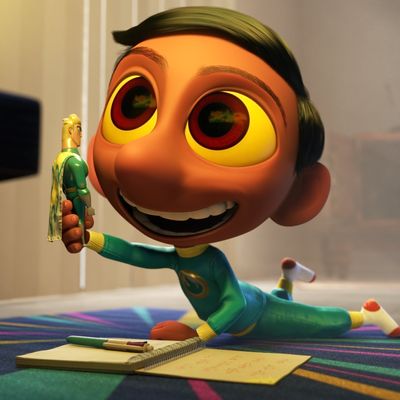 Pixar's The Good Dinosaur opened last week, and like every past Pixar feature, it kicks off with a short film. "Sanjay's Super Team," directed by Pixar artist Sanjay Patel, is the 30th such short, and like its predecessors, it's entertaining and poignant in equal measure. But it's also a step forward for the studio — a story told from an Indian-American perspective, one so personal that its director wasn't sure he should go through with it. (Patel's father ultimately told him it would be bad karma not to, "and karma's a very big deal to my father," Patel says. "He felt it was my duty to at least try.") Patel and Pixar producer Nicole Grindle chatted about precisely how a short gets made and why the mini-movies are crucial to Pixar's evolution as a creative powerhouse.
The process begins with a Pixar-wide call.
"We let people know we're looking for ideas for the next short, and they're encouraged to put together three ideas," Grindle explains. Writers typically come in and present their concepts, and a committee decides which individuals will then get a chance to pitch Pixar chief creative officer John Lasseter, who ultimately picks the winning idea and filmmaker. But that's not a written-in-stone process; in Patel's case, Lasseter came to him. "Sanjay had a couple shows at the Asian Art Museum in San Francisco, and he'd been encouraged to bring his artwork to do a show here at Pixar," Grindle says. (Pixar has a gallery dedicated to the work of employees.) According to Grindle, Lasseter saw his show and said, "Wow, this is Sanjay Patel, who's been working here all this time? This is amazing — he should make a film."
Any pitch has to hit a few key Pixar-specific notes.
The idea must be one that needs to be told via visual storytelling and, specifically, animation. "We almost never have dialogue in the shorts," Grindle notes. "The closest thing we'll have is maybe a song." The idea must be one that can work as a free-standing film, since shorts aren't paired with certain features by design (there's no intended thematic connection). And the story must be told in a clear, simple way. "You have to introduce and resolve something very quickly, in a way that makes sense to everyone and is emotional," Grindle says. "Very often in short films, you see something and it seems interesting, but you're not sure what it is. It's a challenge to make a film that's meaningful in a short amount of time."
Everything in a short is there for a reason
"Sanjay's Super Team" runs just about seven minutes, and Patel and his team heavily scrutinized all of the imagery and its placement. The Hindu deities are drawn in a more elegant manner than usual Pixar characters to reflect the androgynous characters pervading Hindu philosophy. "For every masculine deity, there's a feminine counterpart," Patel notes. "I knew these were rich, dynamic characters, but in sculpture work, you see so much sensuality and grace — even in masculine figures, there are a lot of feminine curves." In the opening shots, he places Sanjay on the west side of the room and his father on the east, with a beam of sunlight that literally and metaphorically divides them.
Making a short is a prestige gig (but that doesn't mean everyone jumps at it).
It's mostly Pixar veterans who work on the shorts (for instance, Inside/Out production designer Ralph Eggleston directed "For the Birds," which preceded Monsters Inc. and won an Oscar). Patel has worked at Pixar for 20 years, but it took a great deal of convincing to get him to accept the directing position. "To the studio's credit, they reached out several times, very kindly," Patel says. "The third time, the president of Pixar, Jim Morris, asked me into his office and asked what was going on. I told him about a lot of fears I was having."
Personal stories can make for the best shorts.
When Patel initially pitched, he "abstracted the story of me and my dad, where it was just a boy ignoring his culture, and by the end he figures out a way to discover and appreciate it." He showed Lasseter an illustration of his father at one end of a living room worshiping at his shrine, "and me on the other side, worshiping my gods — superheroes." Patel was sure the studio wouldn't go for a story so based in his own Indian culture. "Growing up in the States, I was the only Indian kid in my elementary school, high school, in art school, in animation at Pixar for a long time," Patel says. "Putting that part of my identity in the spotlight felt scary. It felt like there wasn't space for that voice, and I was kind of discounting it before someone could turn me down." But Lasseter was immediately supportive: "He very much gave me permission to tell exactly the story was going for."
John Lasseter is extremely involved.
Lasseter periodically steps in to give notes during production, and they're usually concise and right on the head. "He can walk in, without having been a part of the process for a long time, watch the work, and immediately give great feedback," Grindle says. For "Sanjay's Super Team," he made several crucial suggestions that made it into the finished product. Patel initially wanted to make the Super Team "a very sort of Super Friends, '80s cartoon thing, kind of low-budget and cheesy to play for laughs," in order to emphasize "how cool" the deities are when they show up. Lasseter pointed out that this would undermine the audience's investment in Sanjay's cartoon characters when his father turns off his TV. "If we're not interested in what happens next in the cartoon, that makes the boy seem kind of dumb," Patel acknowledges now. It was Lasseter's idea to put Sanjay's name in the film title and to include photos of the real Sanjay and his father at the end. "We wanted to be sure everyone understood this was a story about Sanjay and his father," Grindle says. "This is not about Hinduism writ large. This is about the specific experience of a child of immigrants, and about the specific tension that exists between an immigrant parent and their child growing up in another culture."
The process takes a long time — and it's not for everyone.
The process of making a short varies, but for "Sanjay's Super Team," it was nearly three years — approximately one and a half in development, then the rest in production. "My son was born the day I was meant to pitch," Patel recalls, "and he's two and a half now." Patel was devoted solely to the short for all of that time — "I was living, breathing, and eating it" — but of the scores of people seen in the end credits, very few have worked on the short for more than three months. "We're fitting into a space the studio gives us between feature films," Grindle says. "There's a limited amount of time available, and we'll have an idea of some talent we want to work with, but we also have to work with who's available." The threshold for appearing in the credits is three weeks of work.
The shorts keep Pixar fresh.
The idea for the shorts was born of Lasseter's affection for the short pieces of media that would precede feature films in the '40s and '50s, and Pixar started out making shorts before branching out into features. Now the shorts are considered "a great laboratory for new technology, and a great opportunity to try out new themes," Grindle says, noting that while it might have been hard to structure a feature around Patel's story, it was the perfect subject for a short. Creatives at Pixar have a tendency to become specialists who rarely leave their departments, but on the shorts, they have the chance to stretch. "Sometimes we'll discover, 'Wow, this person did this amazing thing on a short — they should become a lead on a feature film,'" Grindle says. "Or maybe we should allow them to work in another department. It keeps the creatives inspired."