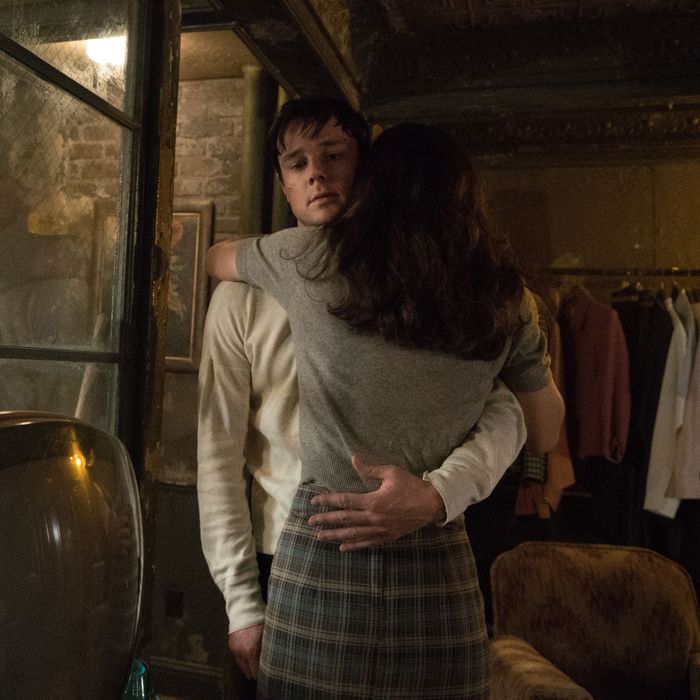 Rupert Evans as Frank and Alexa Davalos as Juliana.
Photo: Liane Hentscher
The fifth episode of The Man in the High Castle deals with the fallout of the shooting of the crown prince, while also sending lead characters Juliana (Alexa Davalos) and Joe (Luke Kleintank) to opposite sides of the country. It's a tight, well-directed, and promising set-up for what's to come as we arrive at the halfway point of this season's narrative arc.
"The New Normal" picks up immediately after the end of the last episode. The crown prince of Japan was indeed shot, but not by a vengeful Frank Frink (Rupert Evans). As panic ensues, people see Frank with a gun in the crowd and blood on his hand. He drops Juliana's locket as he flees, hiding the weapon as medics tend to the crown prince. Wegener (Carsten Norgaard), Kido (Joel de la Fuente), and Tagomi (Cary Hiroyuki Tagawa) look on with concern.
Of course, the area around the assassination attempt is put on lockdown. Will Wegener get caught up in the investigation? He's not only carrying a microfilm, but also has fake papers that are likely to be examined. The double agent eats the microfilm, but his passport is still taken away. How soon will he be discovered? The sequence ends with a great low shot of Tagomi looking crestfallen, moments before he stumbles on the locket.
While Frank makes it home and the crown prince clings to life in the hospital, Juliana's bus arrives in San Francisco. The magic of TV makes it seem like a quick trip, but even today, that drive lasts nearly a day and a half. (Maybe buses would be faster if the Axis powers won?) Juliana encounters sirens, armed men, and checkpoints — it looks a lot like World War II. Tension and violence slide this society right back to wartime.
Juliana slips through the checkpoint and reunites with Frank. Will he reveal his torture? What will she tell him? How much do these two characters love and trust each other? It's hard to say, given how quickly the show split them up in the first episode. Frank ends up acting pretty elusive, only telling Juliana that the Kempeitai came looking. He starts to get accusatory — "Did you find what you were looking for?" — before he tells her to talk to her mom. Juliana's stepdad, Arnold (Daniel Roebuck), reveals what happened to Frank's family, although we're reminded that they don't know Trudy is dead.
Juliana goes home to Frank and cries in his arms. He can't tell her about the gunshot; he can't risk putting her in danger too. What should they do now? They can't go back to the way they were. While Frank goes to work at the gun factory, Juliana struggles with her guilt about the departure and the murder on the dam. What did she actually accomplish? She needs a victory, a reason to believe.
When Joe returns home, we finally learn more about this underwritten character. He's quickly jumped and taken in to be debriefed. Before we get to the accomplished centerpiece of "The New Normal," though, the episode delivers a few important beats in this post-assassination-attempt world. Tagomi wants Wegener to leave as quickly as possible, but he's committed to completing his mission. (The Wegener arc is thematically similar to Joe and Juliana's, isn't it? He refuses to give up on his intended goal, even when he doesn't know what to do next.) Meanwhile, Kido watches as the crown prince's guards commit seppuku before being beheaded. If he can find the shooter, Kido's fate will be the same.
After a brief scene in which Juliana learns that she can't go back to her beloved aikido dojo because she's still a wanted woman, she decides to turn herself in. Director Bryan Spicer brilliantly weaves Joe's debriefing by Major Klemm (Steve Byers) and Smith (Rufus Sewell) with Juliana's questioning by Yoshida (Lee Shorten) and Kido. Joe tells them he lost the film. They're not happy, but Lem would have shot him if he didn't give it up. After it's revealed that the Marshal contacted the Nazis — and told them that Joe was protecting Juliana — Joe is caught in a lie.
This sequence is expertly directed and edited. What will Joe and Juliana reveal? When will they lie? There's a visual language to these questions: We get overhead shots for Joe and Juliana, which makes them look smaller, and low shots for figures like Kido, enhancing their positions of power. It's one of the show's best sequences yet. And Kido's words to Juliana sound prophetic: "Things will never return to normal for you. They cannot."
Two major events follow the dual interrogations. Juliana goes to Randall's house — he was Trudy's contact — and meets another Resistance leader. Meanwhile, Joe talks back a bit to Smith, who reminds him that he's just a cog in the machine. If he goes his own way, the machine will break down. Will Smith's antagonism push Joe to the Resistance? Afterward, Smith invites Joe to his house on Long Island to celebrate VA Day. I get the feeling that he doesn't trust Joe, but you know what they say: Keep your enemies closer.
At a memorial service for Frank's sister and her kids, Frank has to swallow a bit of cultural outrage when he sees the large number of Japanese people who attend. None of them had a thing to do with their deaths, of course, but I hope the show continues to investigate this type of broad cultural blame. (It's certainly relevant to today's headlines.) It doesn't help that the ceremony is basically a sham event, designed to allow Frank's brother-in-law to keep living in Japanese culture. At the service, Frank also meets a man named Mark Sampson who used to work with Laura. Mark says, "To life, Frank," hinting that he knows Frank is a Jew — and perhaps he is as well.
Back to the Resistance. Juliana wants to find out who set up Trudy and Randall. (She's urged on by this mysterious Resistance character, who seems to exist only to push her toward her next assignment.) Before he died, Randall mailed the Resistance a card with a name on it: "Sakura Iwazaru." Juliana needs to get a job at the Nippon Building, and find this man. Who is he? Did he get Trudy killed? If she goes undercover in a government building, there's absolutely no turning back.
As tensions rise between Tagomi and Kido, the Trade Minister knows that he has to sneak Wegener out of town. As he's escorting him through the hotel lobby, Wegener sees one last chance to hand off the microfilm, but he may be spotted by someone who knows his real identity. After a tense moment in the lobby, the hand-off happens and Wegener appears to be on his way.
Finally, Juliana goes to the Nippon Building, where she interviews with the slimy Mr. Eto. He wants her to work as a secretary, but also to "undertake personal services." He tells her how honorable it is to work there, then unzips his pants, not-so-subtly looking down: "Do you want the job or not?" She runs out, bumping into Tagomi in the hall, who drops the locket. Of course, she recognizes it and runs off.
Other Notes:
Anyone else curious what's happening in the rest of the world? What does France look like in this alternate timeline? The U.K.? Do they even exist anymore? It makes sense to focus on North America in the first season, but hopefully, any future seasons will expand the window of alternate history.
We finally got a chance to see Tagawa's great range this episode: angry, mournful, righteous, terrified.
On a similar note, we're at the halfway point of the season, so it's time to list acting MVPs. We all knew Rufus Sewell would be fantastic — and he is — but I'll go with Rupert Evans for first-half MVP. He has taken a character who could have been all melodrama and internalized his emotional pain. He's excellent.
Final acting note: Why isn't Carsten Norgaard (Wegener) in the opening credits? His character seems as essential as Joel de la Fuente's Kido.
Did you catch this? When Klemm brings Smith his files at the end of Joe's debriefing, they're labelled "Grasshopper," which is clearly a reference to the Man in the High Castle's newsreel.
Director Bryan Spicer did great work this week. As a TV veteran, he's helmed more than a dozen episodes of Hawaii Five-0, Castle, and 24. That last one seems especially notable, given interrogation centerpiece of "The New Normal."