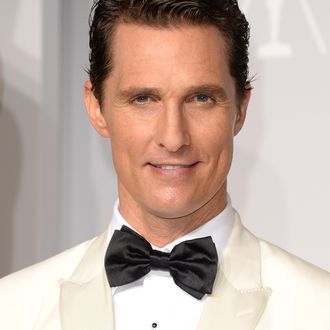 Matthew McConaughey.
Photo: Jason Merritt/2014 Getty Images
The Wrap reports Matthew McConaughey is looking at two deals tied to Sony's on-again adaptation of Stephen King's Dark Tower series. Initially, the actor was thinking about the gunslinging Roland Deschain part, but now he's apparently leaning toward that character's nemesis, the very bad, very prolific Man in Black (not this kind) who has a lot of other aliases. As the Wrap notes, this would be the actor's first role in a major big-screen saga — one also set to have season-long TV installments running in between.
Around this time last year, McConaughey was also rumored to be snagging the part of the lead baddie in Warner Bros.'s goliath undertaking of King's superflu-ravaged Stand (somewhat connected in a shared-universe kind of way, but different here mainly because of the studios involved). The Wrap points out, however, that the project is still in development and not as close to being ready as Sony's.
The Gunslinger, which will be the first film in Sony's plan, has already been adapted by Akiva Goldsman and Jeff Pinkner, according to Variety. McConaughey will either pull a Nutty Professor or decide this way. Okay, probably not, but he will have to make a call soon-ish, as the Nikolaj Arcel–helmed Dark Tower needs to go into production ahead of a January 13, 2017, release.