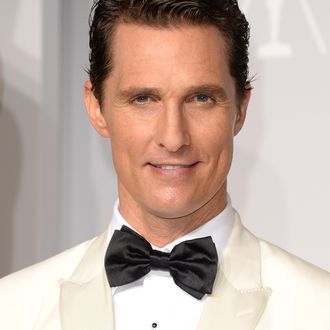 A koala, aka Matthew McConaughey.
Photo: Jason Merritt/2014 Getty Images
Universal and Illumination Entertainment's upcoming Matthew McConaughey–starring animated musical will be titled SING, and will feature a slew of other big-name talents voicing animals, the studios announced Tuesday night. Taron Egerton (gorilla), Tori Kelly (elephant), Seth MacFarlane (mouse), Scarlett Johansson (porcupine), John C. Reilly (sheep), and Reese Witherspoon (pig) join McConaughey (koala) in what sounds like Ryan Seacrest's less-depressing version of BoJack Horseman. USA Today, with sneak peeks of characters, reports the Garth Jennings film will tell the story of McConaughey's Buster Moon, a struggling theater owner who tries to ameliorate business with "the world's greatest singing competition."
"Buster is a salesman and a survivor, eternally optimistic, and someone who will do anything to make sure 'the show goes on,'" McConaughey explained to Today, failing to confirm if Koala McConaughey will have to drive an animated Lincoln. You can find out for sure when the movie, which will reportedly showcase more than 85 songs from the 1940s through the present, opens December 21, 2016.