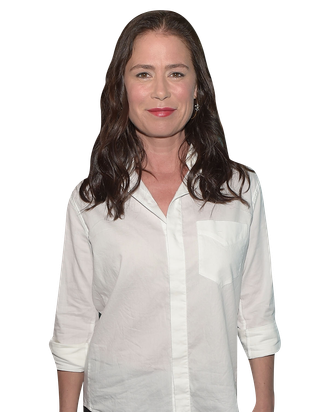 There's something comforting about watching Maura Tierney act. Whether she's being typecast, in her own words, as the "grounded, sweet nice girl" or single-handedly reinventing the trope of the Jilted Wife on Showtime's The Affair, Tierney, 50, manages to infuse a rare, relatable ease into her work that makes you root for her no matter whose skin she's living in. It's a skill that's helped the Boston native sustain a more than 20-year-long career in TV and film, buoyed first by NBC's smarty-pants sitcom NewsRadio in 1995, then a smattering of notable film roles opposite Jim Carrey and Ben Affleck, intense arcs on ER and Rescue Me, and now on The Affair, whose second season has (thankfully) given Tierney's Helen Solloway a meatier dose of screen time. Here, the actress reveals why failing as a dancer led her to acting, how Denis Leary helped her heal after cancer, and coming to terms with the inherent "humiliation" of her craft.
We've spoken a few times over the last year about how polarizing The Affair has been for viewers in its depictions of infidelity, sex and love. How, if at all, have your thoughts on these themes changed since the show started?
My instinct of course is to always say, "We're just acting!" But I do think a lot about this stuff. I'm divorced, so something like monogamy I thought a lot about well before the show. Are they as important as we make them? Are people wiling to look at these things from a different angle? I grew up very Catholic, so yes, the show makes me think. I get asked these questions a lot.
But people probably weren't regularly asking you for medical advice when you were on ER.
[Laughs.] No, they weren't! I'm going to say that from now on.

What first inspired you to act?
I always acted in high school. Actually I started in preschool. I was in a play about Jesus. I went to a Catholic school and played an angel and recited some poem about Jesus. It felt so long to me at the time. [Laughs]. Then I really wanted to be a dancer. But I didn't start early enough, I didn't have the right body. I was a dance major at NYU, but it wasn't working out. I had friends in the drama department so I switched.
Did you have specific aspirations to work in either TV or film?
I didn't really aspire beyond what was immediately in front me. I felt intimidated the entire time I was in school by my teachers and classmates. But I just knew acting was something I wanted to do. I remember seeing the movie Frances and thinking about that performance — If I could make someone feel something like [Jessica Lange] made me feel … it was something to aspire to.
Did you immediately move to Hollywood?
I was only going to come out here for three months, and then it became 22 years. [Laughs.] A bunch of my college friends were here. My dad was in politics and at the time was running for mayor back home, so my plan was to come out only for the summer and go back and work on his campaign. But I got an acting job in August and stayed. I always had guilt about not going back to Boston because he lost the election. [Laughs.] I always thought it was my fault.
What kind of roles did you find yourself being considered for? Did you ever feel typecast?
I feel like that happened actually later on because in my first TV job I played the mean cheerleader in a movie called Student Exchange. It was the best character work I've ever done. [Laughs.] I wasn't the sweet, nice girl, who I ended up playing a lot after that. I got a lot of grounded roles later on as "the straight guy."
It's been 20 years since you broke out in your role as producer Lisa Miller on NBC's NewsRadio. How did you get that part?
I auditioned in New York and they sent my tape to L.A., but the funny thing was that the audition got ruined somehow and I had to go back and re-audition the next day, which happened to be when they were lighting the Rockefeller Center Christmas tree. It was such a bitch to get there — I couldn't believe I had to go back! Then the role was narrowed down and they flew out the other women, including actress Nina Siemaszko, on the same day rehearsal started. We had to go in front of the network and then wait in this trailer to see if we got the job. This was when Warren Littlefield was running NBC. They moved us around the schedule like 16 times. People have said recently the show was ahead of its time, but I remember it was more unique than anything. There was nothing really like it on TV. We tried to cram in as many jokes as we could into each episode. There was never going to be "A Very Special Thanksgiving Episode of NewsRadio." It was always very unsentimental.
You appeared in a lot of high-profile movies in the late 1990s, including Liar, Liar and Forces of Nature. But when NewsRadio wrapped, you quickly joined the cast of another TV series, ER. Did you feel more comfortable working in TV?
In film, I was usually the Wife, the Girlfriend or the Ex-Wife. But in TV, writers had time to actually work with us and write to our strengths. I definitely knew I didn't want to do another sitcom because I'd had such a special experience on NewsRadio. I'd hoped to do a drama like NYPD Blue. Then ER called and I was there for eight years.
In 2009 you were diagnosed with breast cancer and had to drop out of NBC's Parenthood, a role that eventually went to Lauren Graham. You returned to series TV in ABC's short-lived legal drama The Whole Truth in 2010. How difficult was it go back to work after your illness?
Well, The Whole Truth was a mistake. [Laughs.] People were like, "Maybe you came back to work too soon?" And I was like, "Maybe I came to this job too soon." I also did a play right after I was sick with the Wooster Group in 2010. That felt different and great.
You also returned for a second arc on FX's Rescue Me in which your cancer was written into the show.
I love those guys, [creators] Denis Leary and Peter Tolan. They were so willing to listen to me about the script. They were the first people after ER to hire me for a totally different character — a rock-and-roll chick, so different from Abby on ER. I was actually always supposed to come back to Rescue Me, then I got sick and I told them, "Well I'm bald now." And they were like, "That's okay!"
The Affair creator Sarah Treem has said she's been shocked at how willing people are to go the mat on the subject of infidelity, no matter which side they're on. Do you have the same feeling?
Yes. There is a lot of questioning: Is there a definitive objective truth in the show? Whose point of view is right? The answer is, everybody and nobody. It all definitely touches a nerve.
Helen has had a lot of intense moments in season two, from her pot-induced arrest at her kids' school to that terrible fight with her mother. Do you have a favorite moment or scene from this season?
Actually, I love the one in the hospital where Helen says to Noah, "You can call her back."  And he says, "No it's okay." And she says, "No, I want you to." I think that joke is really funny.
I also love that the writers allowed Noah to be heroic in the scene where he carries your son into the ER. Helen sees him as a good father for the first time in awhile.
[Laughs.] Yes it was time for poor Dom [West] to get to do a heroic thing. I actually hated shooting in that hospital. I felt like everything I did was so phony because I worked in an ER for so many years. I felt paralyzed. I didn't want to overact, I got crippled. It was really hard for me for some reason.
You kept hoping Dr. Carter would walk around the corner and help you.
[Laughs.] Did I ever! I was very embarrassed and self-conscious. Another favorite scene is in the episode that airs November 22. It's between Helen and Noah. We're in a bar at our old college, where we met. There are 16 pages of dialogue that we shot in one day. It's really fun because one perspective is more serious, the other is more drunken.
What do you tell aspiring actors when they ask you for advice?
I've been lucky to have worked with great writers, but mostly you have to like what you're doing. Otherwise the humiliation is unbearable. [Laughs.] It doesn't matter how many paychecks you get. I just had to put myself on tape for another role and the director texted me, "Great work, tough choice!" And I was like, "Are you fucking kidding me? You're texting me?" I put his name in my phone as "Humiliation: Is It Worth It?" You have to really care. It's what has sustained me.