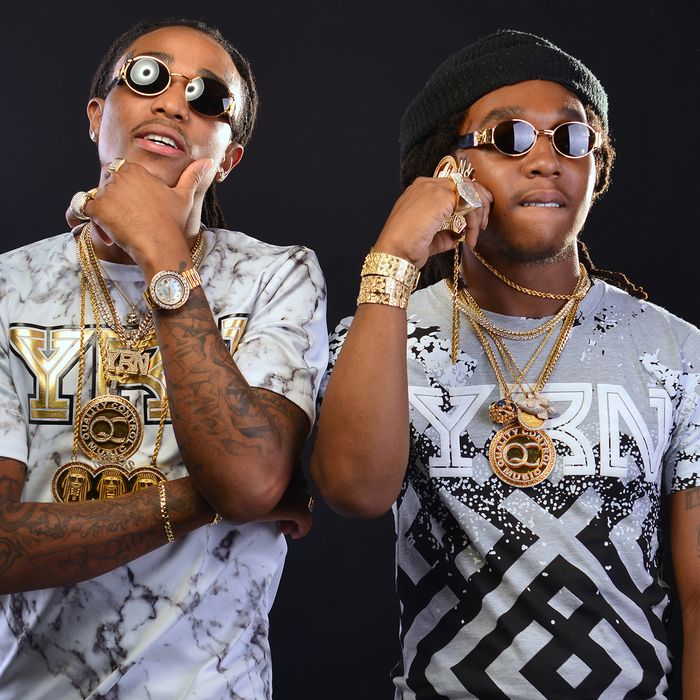 Photo: Prince Williams/WireImages
This is the year "dabbing" went from burning your mom's house down trying to extract butane honey oil from cannabis to a dance birthed in Atlanta and, according to the irresistibly catchy Atlanta rap group Migos on their new song "Look at My Dab," a style aesthetic, too. (Sample lyric: "Now niggas dabbing / Before it was swagging / Niggas thinking that it's just a dance / When dabbin' is a way of fashion.") So here I am, thinking dabbing is  hallucinating on BHO and Cam Newton's end-zone dance, when really it's about clothes that are potentially inspired by both …? To find out more, I went to meet the young dab kings of Migos — specifically Quavo and Takeoff, the two members who aren't currently in jail — to talk about the fashion aspect of 2015's dabbing phenomenon.
On Black Friday, Migos will launch a six-piece capsule collection (shirts, snap-backs, pants) as part of their new three-way collab with sneaker chain Footaction and WorldStarHipHop (yes, that WorldStarHipHop). It's called Worldwide Rich because obviously, and it's the secret sauce to looking, um, dabtastic for the holidays. The collection, which ranges from $40–108 in price, is heavy on shiny gold metallic, skulls, roses, and, of course, lots of money. I can see fans of both Newton and marijuana concentrate wearing it; call it dab-synthesized.
Clad in head-to-toe dab gear and chains on a warm night in lower Manhattan — and, by the way, looking at me like I have no idea what they're saying (which is mostly true) — Migos tell me that the collab is the result of "great minds thinking alike." They point out some of their sartorial decisions in the line, including diversifying the currency emblazoned on the clothing ("because it's worldwide") and using diamonds as eyeballs. I ask if these dab fashions are for women as well, to which Quavo replies, "If you feel like wearing your boyfriend's clothes."
Though the collection certainly reflects Migos's signature style — which I like to think of as young, bawdy, and black — I can't help but notice that its release is a pretty innocuous way for the group to end a rather bloody year, during which there have been arrests, shootings, and stabbings at multiple Migos concerts. Despite the violence and the jailing of member Offset, Migos — who made a name for themselves with songs like "Freak No More," "Versace," and my personal favorite, "Fight Night" — have been able to maintain steady momentum since 2014. During our conversation, both Quavo and Takeoff were even optimistic about Worldwide Rich and their future in general, which, they tell me, will include "mo' dab."
Me: What's next for Migos?
Takeoff: Mo' dab.
Quavo: Hit her wit it one time.
Me: Don't dab me yet, I'm not sure I'm ready to be dabbed.
Takeoff: We got mo' dab comin' out.
Quavo: Hit her wit it one time.
Takeoff: Just WAIT ON IT!!
Quavo: That what it is.
I have about 15 minutes of this on my recorder, in between Takeoff telling me that his favorite videos on WorldStar are the Migos videos, while Quavo prefers this one guy talking about how he no longer has to pay child support. To be honest, I don't think any of this cleared up any confusion I may have had about dabbing in 2015, but I'm pretty sure I'm looking forward to mo' of it.