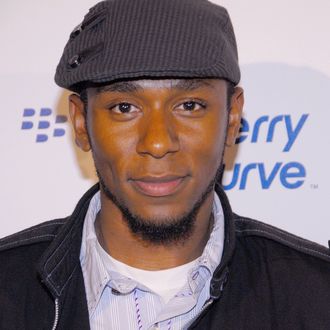 Yasiin Bey, aka Mos Def.
Photo: Charley Gallay/2007 Getty Images
Yasiin Bey, the socially conscious rapper formerly known as Mos Def, released a single and participated in a politically charged interview following this weekend's devastating Paris attacks. Talking to journalist Ferrari Sheppard for their own multimedia project, A Country Called Earth, Bey dished on such topics as police violence, human rights, and religion, among others. "Everything from Tamir Rice, to the Paris shootings, to what's happening to the students in University of Missouri … it's all connected, it's all the same thing," Bey said, calling for people to embrace humanity and not act like machines. "And by the way, a big giant fuck off to ISIS. You don't represent nothing about Islam or nothing about the Prophet. And another giant fuck off to everybody who's trying to say, 'See, this is Islam's fault.'"
In tandem with the interview, ACCE shared Bey's "No Colonial Fiction." The song, featuring Rice in its lyrics and artwork, echoes many of Bey's sentiments from the interview. "Do something, do something real," Bey raps over hazy, dreamy production. "Zulu Nation is creation, we want no colonial fiction."
ACCE adds that "Fiction" is the first single off Bey's forthcoming mixtape, The Human Beings (My Favorite Band), and that a video for the track should be on its way this week. Stream here:
And for Bey's whole interview with Sheppard, you can listen below or head here for a transcription.