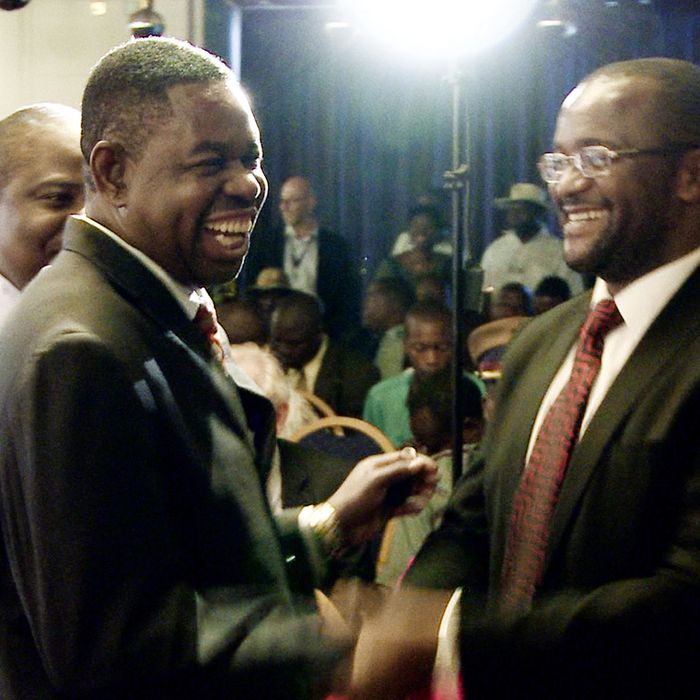 Douglas Mwonzora in Democrats.
Photo: Upfront Films
Access is often the lifeblood of the political documentary. Case in point: Danish director Camilla Nielsson's Democrats, shot in Zimbabwe over the course of three years, follows the efforts of two men on opposing sides of the political spectrum as they struggle to craft a new constitution. Though it clocks in at a brisk 99 minutes, the film captures issues both particular and universal: not just the daunting nature of this specific effort (5803 local constitutional meetings were held across Zimbabwe, we're told) but also the dynamic between institutionalized power and democratic power, and between our public faces and private ones. It truly is a movie about politics, and it's among the more mesmerizing ones you'll see — even if you know very little about Zimbabwe itself.
The two men at the center of Democrats couldn't be more different. Smiling, affable mover-and-shaker Paul Mangwana is an official in longtime strongman Robert Mugabe's party ZANU-PF, which has just entered into a power-sharing agreement with its main rival, MDC-T. Bookish and patient Douglas Mwonzora is a leading light of the opposition; he's convinced "the end is coming" for the powerful Mugabe, who has dominated Zimbabwe since the early 1980s. The co-chairs of a committee to draft a new constitution, these two men somehow have to travel the country and get their divided fellow citizens to sit together in local meetings and voice needs and concerns about what should be in the new document.
That's not easy, especially when Mugabe's party apparatus seems reluctant to cede any kind of authority; there are reports of intimidation, of secret service agents dropping into towns just ahead of the constitutional commission and warning folks about what might happen if they say the wrong things. Sure enough, very often the local meetings just become choruses of people singing Mugabe's praises (in remarkably similar language) and saying he should be allowed to do anything he wants. It's complicated, though: Mugabe does seem to have many genuine supporters, particularly among military veterans, who feel that they helped fight for and build this country and are horrified at the idea of "someone else" running it.
The tense atmosphere under which these two men have to work seeps through nearly every moment in the film. Armed men suddenly bark orders from out of nowhere; Mwonzora is randomly arrested and held in prison for three weeks without a trial; when a clause distressing to Mugabe supporters makes it into a draft constitution, Mangwana's own party immediately turns on him; and in one of the film's more touching moments, Mwonzora visits the family of a young man who was killed during a political riot. When we do see President Mugabe himself speak, it's chilling: He talks in pointed bits of sarcasm, and his supporters giggle like lunatics at every other thing he says, each apparently trying to laugh harder than the other.
But for all that — and despite a real downer of an ending — Democrats isn't an entirely pessimistic film. Building a democracy and a civil society, it makes clear, is messy business filled with failure, disappointment, chaos, and coercion. "The game of politics is pretending," Mangwana says, but he also seems to grasp that pretending can sometimes lead to believing. If anything, he sort of embodies this: As the film proceeds, we see him come close to breaking with the party line at various points. And it's fascinating — even moving — to watch how quickly his seemingly constant smile can turn to a tense, troubled glare.
Nielsson does have a point of view here. It's hard for anyone outside Zimbabwe to see Mugabe's reign and not be concerned. But her camera is admirably generous. She's not out to get Mangwana or to lionize Mwonzora. Watching these men, you get the sense of two distinct personalities, both of them perhaps necessary for a nascent democracy: the opportunist and the idealist. Democrats may be about one volatile country's experiment with democracy, but it has a lot to say about how politics works in every part of the world.