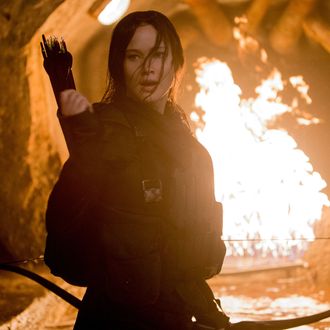 Photo: Murray Close/Lionsgate
Forget turkey, stuffing, and those weird, amorphous, jiggly piles of canned cranberry sauce that your mom continues to put out every year even though no one likes it: This Thanksgiving weekend, moviegoers feasted on Mockingjays and Dinosaurs. Also a boxing movie, but it sounds kind of weird saying moviegoers feasted on boxers. The Hunger Games: Mockingjay— Part 2, the final installment in the massive movie series that certified Jennifer Lawrence's universal box-office appeal, finished in first for the second straight week, earning $51.6 million for a $198.3 million cume. Pixar's The Good Dinosaur nom-nom-nomed $39.1 million in its first week for a second place finish, while the acclaimed Creed slugged moviegoers for $30.1 million. Spectre made $12.8 million in its third week for a $176 million domestic cume; it's slightly underperformed in the US, but is about to break $750 million worldwide, which ain't too bad. The Peanuts Movie rounds out the top five with $9.7 million, $116.7 million domestic cume.
A pair of surprise Oscar contenders, Spotlight and Brooklyn, both amplified their earnings considerably in their fourth week in theaters; Spotlight made $4.4 million for a $12.3 million cume, and Brooklyn made $3.8 million, a 230.2 percent increase from last week. The Janis Joplin documentary Janis: Little Girl Blue made $24,000 on two screens while the Eddie Redmayne–starring Oscar-bait biopic The Danish Girl made $185,000 on four screens. Victor Frankenstein, the gothic bromance starring James McAvoy and Daniel Radcliffe and based on Mary Shelley's classic novel Frankenstein, had a still-birth debut, making a lousy $2.3 million on 2,797 screens. No amount of CGI lighting can bring that hodgepodge monster movie to life, it seems.