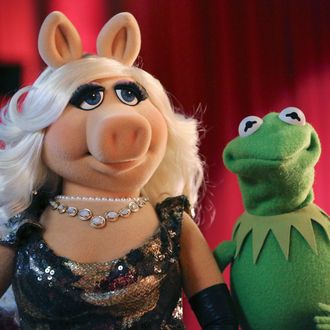 For The Muppets, it's time to get things started — all over again.  According to Deadline, the ABC sitcom is dropping showrunner Bob Kushell and replacing him with Galavant co–executive producer Kristin Newman.
While the move is apparently motivated in part by tensions between Kushell and Muppets executive producer Bill Prady, ABC is also hoping the showrunner shake-up will be a way to revive the sitcom, which looked like a surefire hit but has struggled amid tepid reviews and precipitously sliding ratings. The plan now, it seems, is to run out the show's first ten episodes this fall, and then bring it back in the spring for a six-episode mid-season run, which will serve as an unofficial reboot.
Off a new start wafts a sort of promise: the Muppets sitcom fans deserve. The show was rushed into production earlier this year, and though it's been performing all right by Tuesday sitcom standards (in an admittedly underwhelming fall season), it's been an uneven, uninspired run thus far. Of course, getting rid of a showrunner mid-first season isn't the best omen for a show's continued success, but hopefully Newman's fresh pair of eyes will help fix the uneven tone and solidify what, exactly, The Muppets is all about.