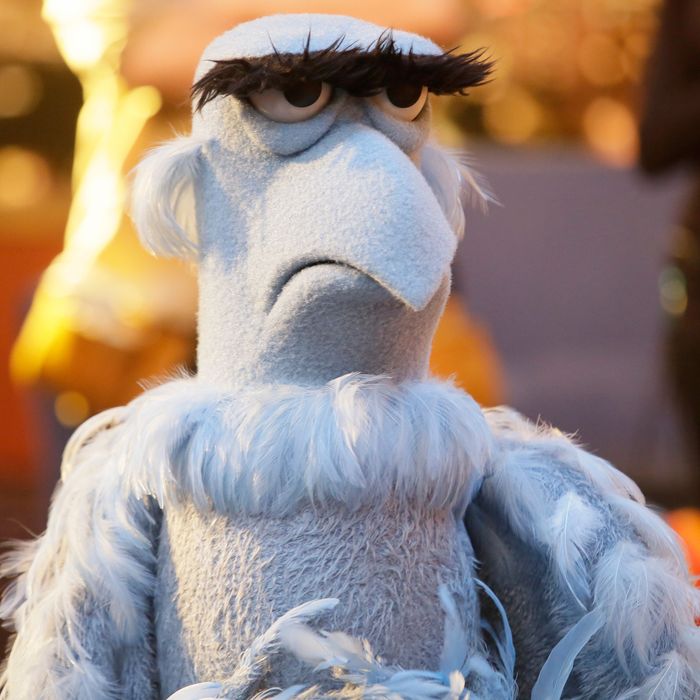 It was very kind of the Muppets writers to provide me with such a nice analogy for all the recent behind-the-scenes upheaval, and especially nice of them to do so within my favorite episode of the show so far.
Well played, The Muppets.
Without getting ahead of myself, recap-wise, "Pig's in a Blackout" ends with Kermit realizing that the best way to deal with the stress of running a TV show is to get back to his roots. He can try and change his behavior, but in his heart he's the same frog he always has been, so he rips out his backyard and replaces it with a replica of the swamp he grew up in. The episode ends as the Muppet saga began, with Kermit strumming his banjo and singing "The Rainbow Connection" to a pissed-off neighbor and this recapper's instinctual tears. Hearing "The Rainbow Connection" felt like a way for the show to say, "We know it's been bad. We're going to do better." It felt like the show learned the same lesson that Jason Segel's The Muppets knew all along: You can put in as many rap numbers and topical references as you'd like, but at the end of the day, these are the Muppets, and it's going to have to end with a frog and a banjo.
As was announced last week, ABC's The Muppets will soon be ripping out its own metaphorical backyard and trying to build something that helps it back to its roots. The initial ten-episode run is now winding down, which means we'll start looking toward the mid-season six-episode "reboot" slated for spring. Hopefully, those episodes will look a bit like supercharged versions of this one, since while far from perfect, "Pig's in a Blackout" felt the most like the Muppet sitcom I've been waiting for of any episode thus far. Though, maybe that's just the residual magic of "The Rainbow Connection" talking.
Or maybe it's because it starts with Kermit stressed about work, which, as any Muppets Show die-hard will tell you, is how all good Muppets stories begin. First, Patrick Dempsey doesn't show up so they have to replace him with butter, then Miss Piggy gets trapped in an elevator, then Yolanda is incompetent at taking lunch orders, then Fozzie falls down the elevator shaft, so Kermit blacks out due to stress because hey, not everyone has the hijinks-withstanding ability of Liz Lemon.
When he wakes up, Kermit's greeted by Miss Piggy and Denise fighting to speak to him first (early prediction: This conflict comes to a head in the next few weeks, and the episode will be titled "Compigtition," or something), but they each suggest that he check into a relaxation center for the weekend. The relaxation center may well have been shot on the same location as the one from the series finale of Mad Men, only instead of using his time there to make last phone calls, wrestle with old demons, and meditate until he comes up with the world's most iconic Coke commercial, Kermit makes friends with the guest star of the week, Jason Bateman.
Bateman is there to deal with the stress of directing his daughter's middle-school production of Wicked without a budget or any theatrical know-how, so he asks Kermit to make some introductions for him. It's the weakest part of the episode by far, because it takes Kermit out of direct conflict with any of the other Muppets — historically, one of the biggest drawbacks of having a weekly celebrity guest for more than a cameo. Oh, also ::puts on glasses:: the flying monkeys don't sing in Wicked? Not to brag, but I had no friends in middle school.
Jason Bateman ropes Kermit into using a cell phone to call some of his connections on retreat property, which is grounds for expulsion from the program. When they're caught, Bateman throws Kermit under the bus (very Michael Bluth), and Kermit is sent home to wonder why he keeps letting himself get taken advantage of by other people.
Over a drink at Rowlf's, Kermit and Rowlf talk about just how much anyone can fight their instincts, and how sometimes the best way to deal with the day-to-day stresses of life is to take some time to get back to our roots. It's a really nice moment and it leads to an even nicer one — the aforementioned "Rainbow Connection" ending — which they smartly let play out the episode sweetly and quietly, with only one quick diversion to remind you that, unfortunately, for the next few episodes this is still a show primarily driven by snark, not heart.
Meanwhile, back at the studio, Scooter is in charge so he decides to turn up the thermostat, even though Kermit is strict about keeping it nice and swampy. It's a small move that he's sure won't end in catastrophe, but uh-oh! Chaos ensues! First condensation from the now-operational air conditioner ruins Miss Piggy's outfits for the night, then there's a power surge and the entire studio is plunged into darkness.
Scooter briefly wrestles with his failure to keep the show moving, but is pulled through it with a pep talk from Gonzo and a "Hang in There" kitten poster, to which Scooter delivers the best line of the night: "What do you know about real problems? You're a kitten who's a model!"
The relationship between Gonzo and Scooter felt undercooked, but then, when has an episode of The Muppets ever felt fully realized? There's a sprinkled-in story about Sam the Eagle chasing after Janice, and the Pentatonix show up somewhere in there. But mostly what resonated with me was that this was the first time I remembered how much of Muppet lore has been defined by the idea that the show only goes on because of how much this ragtag group of frogs and bears and weirdos love to entertain.
The uncertainty about how things will pan out and the determination to do it anyway is a lesson the Muppets have taught us over and over again. This time, as the show forges ahead into uncertain territory, it's a lesson it's having to teach itself.