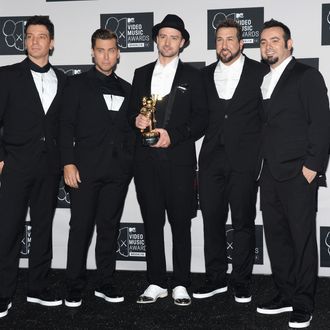 Photo: Jamie McCarthy/Getty Images
Knowing Joey Fatone is such a class act is going to make you feel even worse about making fun of his last name in middle school. "Records are always meant to be broken, but with technology and current music business model, I thought this one would be tough to beat," the 'N Sync member told Billboard when asked about Adele's 25 blowing past 'N Sync's previously uncontested album sales for No Strings Attached. A fair point, Joey. On the other hand, no one had to skip Drama Club practice, drive 20 minutes to the Coconuts Music at the nice mall, and wait in line to purchase 25. Said Fatone, "In all honesty, Adele is the truth — kinda excited a rare talent like hers is in the same breath as our group. I'm a huge fan. … I even bought the damn album." The truth!
Bandmates Lance Bass and JC Chasez also recognized Adele's success, as game must always recognize game. "Congratulations!! #IDemandARecount," Bass joked. Tweeted Chasez, "Well done Adele." No word on what Justin Timberlake or Chris Kirkpatrick think of Adele's success, though if they're upset and want something to listen while they cry about it … they're really in between a rock and a hard place.