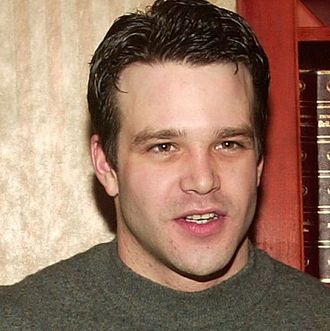 Nathaniel Marston.
Photo: Evan Agostini/2003 Getty Images
Nathaniel Marston, the former One Life to Live star who was put on life support following a devastating car crash late last month, died after succumbing to his critical condition in Reno, according to his family. He was 40. Marston's mother, Elizabeth Jackson, spread the news via Facebook on Wednesday night, writing in a heart-wrenching post that her son "was not able to continue due to the traumatic and devastating nature of his injuries," and that he "passed away peacefully" in her arms earlier that day.
Marston fought for his life in intensive care for roughly two weeks after a single-car collision left him with a broken neck, shoulder, ribs, and collapsed lung. On the night of October 30, according to ET and the Nevada Highway Patrol, Marston had driven his blue 1985 Ford F-150 pickup into a dirt shoulder, causing it to spin, flip, and eject the actor from the vehicle. Jackson chronicled her son's uncertain road to recovery in Facebook updates earlier this month, writing at various points that he was dealing with pneumonia and heart infection, wavering in and out of responsiveness, and hoping to overcome the odds of impending quadriplegia.
"Had Nathaniel lived he would have required a ventilator and would never have been able to utter one more word," Jackson added Wednesday, also thanking Marston's friends and fans for their support this month. "Nate would have never have been able to tolerate [his condition]. By Gods love and mercy Nathaniel was spared this living hell and has traveled on to be with God."

Born in Torrington, Connecticut, Marston bounced around the country with his mother before settling in California at the age of ten. While working at a bakery in Beverly Hills, according to his website, he was "'discovered' by a customer who happened to be an agent for William Morris," and soon began a TV-acting career that would span nearly two decades. Marston is best known for his turns as Al Holden and Dr. Michael McBain on the soap One Life to Live, but he also appeared in Blue Bloods, Castle, Law & Order: SVU, and Educating Matt Waters.

Marston is survived by his wife and mother — whose full message you can read here: