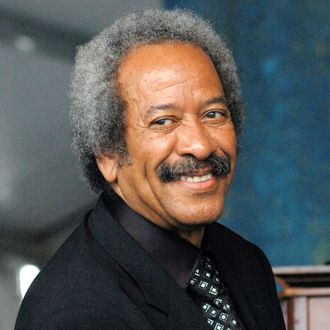 Allen Toussaint.
Photo: Clayton Call/Getty Images
Allen Toussaint, the New Orleans songwriter and producer who shaped the city's sound for nearly 60 years, has died while on tour in Spain, local news station WWL reports. He was 77. Toussaint got his start as a teenager, playing piano for the likes of Fats Domino and Earl King, and writing songs under the stage name "Tousan." By the early '60s, he had become an in-house composer, arranger, and producer for labels like Minit and Instant, writing hits like "Mother in Law," "Fortune Teller," and "Ruler of My Heart," which under Otis Redding became "Pain in My Heart." An earlier Toussaint composition, "Java," won trumpeter Al Hirt a Grammy in 1964.
After a stint in the Army from 1963 to 1965, Toussaint returned to New Orleans and formed the production company Sansu, and established the city's famed Sea-Saint studio. He produced Patty LaBelle's "Lady Marmalade," played with Paul McCartney and Paul Simon, and wrote the song "Southern Nights," which hit No. 1 for Glen Campbell in 1977. Though he embarked on a solo career, Toussaint always maintained that songwriting was his main craft. "I prefer writing for artists than writing for myself," he recalled later. Shyness had something to do with it, too. "I was always a little reluctant about the audience thing," Toussaint once told an interviewer for WWL.
After Hurricane Katrina, Toussaint relocated to New York, where he became an advocate for New Orleans' musical legacy. He eventually returned the the city where he made his career, and in 2013, he was awarded the National Medal of Arts. As President Obama put it while presenting Toussaint with the award: "After his hometown was battered by Katrina and Allen was forced to evacuate, he did something even more important for his city — he went back. And since then, Allen has devoted his musical talent to lifting up and building up a city."
That same year, Toussaint was honored with a bronze statue on Bourbon Street. His final performance in Madrid Monday night was preserved on YouTube: