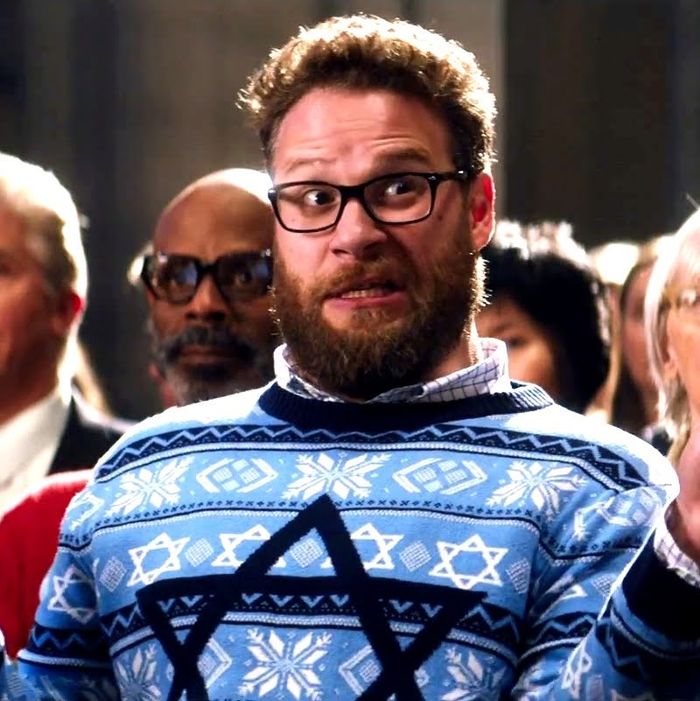 Seth Rogen has turned tales of stoner man-children struggling to bid overdue farewells to their youths into a cottage industry — one that's sometimes poignant, often hilarious, and occasionally annoying. The Night Before does little to mess with the basic formula, though it probably indulges its earnest side a bit more than the typical Rogen fare. It's the story of three best buds — unemployable sad-sack musician Ethan (Joseph Gordon-Levitt), football star and Red Bull spokesman Chris Roberts, a.k.a. "C-Rob" (Anthony Mackie), and expectant father Isaac (Rogen) — who decide to bring their annual Christmas Eve ritual of carousing and getting shitfaced to an end with one final bender.
That's an odd setup, when you think about it. Usually, as people get older, they tend to hang onto these rituals as a way of reliving, at least briefly, their past selves. Or they reenact them after many years in the adult wilderness. (See also: The World's End.) But this is not an idea, or a story, that's meant to stand up to scrutiny. The characters' unresolved issues are pretty boilerplate here. Gordon-Levitt has the Paul Rudd role, as the likable sad-sack reeling from a bad break-up, and Rogen has (duh) the Rogen role, as the recovering Grade-A fuck-up who's still unsure about encroaching fatherhood. Mackie's got the most interesting part: Chris is a successful NFL player who's taken steroids to get where he is after years of anonymity, and who still feels subservient to his team's star player (performed with perfect bro-faced smugness by Aaron Hill).
Anyway, as is traditional, drugs are taken — too many of them. Isaac's wife (Jillian Bell) gifts him a box filled with "every single drug in the world," as a little favor on the eve of his big shindig, and he indulges too much too quickly. Chris promises Hot Shit Corn-Fed Quarterback Boy that he'll bring him some weed, then has to hunt down their old high school pot dealer (Michael Shannon, completely stealing the movie right out from under everyone else) to get some. Ethan runs into his old girlfriend (Lizzy Caplan) and attempts to win her back. There's a lot of stuff about Isaac being Jewish, because apparently that's still funny — or maybe it's just funny because it's not funny anymore. Mindy Kaling shows up just long enough for Isaac to nosebleed into her cocktail, Ilana Glazer shows up to have hot, filthy, ridiculous bar-bathroom sex with Chris, and Ethan sings "Wrecking Ball" with Miley Cyrus. It's a pageant, as they say — a bunch of cameos and funny situations all sort of held together with a bare bones plot and some nods to the Christmas spirit.
It could have certainly been darker. The original impetus for these lads' escapades stems from Ethan's having lost both parents to a car crash many years ago. Plus, there's a genuinely disturbing quality to Isaac's anxieties about parenthood. And the whole business with Chris's juicing up to make something of his career before his shelf-life runs out certainly strikes a sad note as well. But this kind of faux edge is Rogen's thing now. Toss in just enough darkness so the material doesn't feel neutered, mix with some creative dick and bodily function jokes, add some I-love-you-man warm fuzzies, and serve. The formula (mostly) still works.