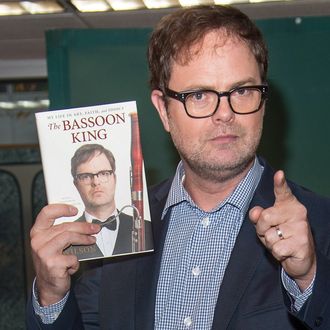 Bears. *Beats.* Battlestar Galatica.
Photo: Debra L Rothenberg/2015 Debra L Rothenberg
Aside from championing cringe comedy and cursing the world with "that's what she said," one of the The Office's early trademarks was its theme song, which, let's be honest, you're probably tapping out on your laptop right now. But according to Rainn Wilson's memoir The Bassoon King, the show almost went with a few other choices. "Many songs were being considered seriously, including 'Better Things' by the Kinks and 'Float On' by Modest Mouse," the man behind Dwight Schrute writes. "The one we all wanted most of all was 'Mr. Blue Sky' by Electric Light Orchestra. It's a sensational song and its jubilant, upbeat refrain would have fit perfectly over the drab video of the opening credits." For better or for worse — let's be honest, for better — "Mr. Blue Sky" was taken by LAX, another member of NBC's 2005 TV class. The show ended up with its now-famous original composition from former seventies rock/pop star Jay Ferguson, and we were all spared from having to listen to Modest Mouse's drunk-karaoke favorite for nine seasons straight.