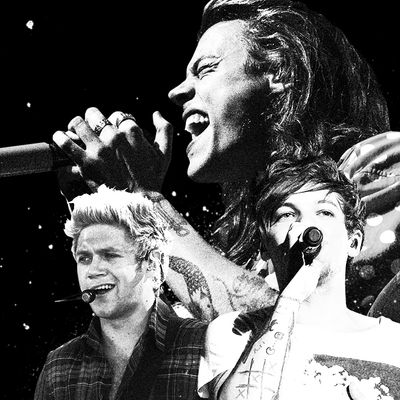 Photo-Illustration: Maya Robinson and Photos by Getty Images
Today marks the release of Made in the A.M., One Direction's fifth studio album in as many years, and their first since the departure of founding member and certified honey Zayn Malik in March. Made in the A.M. is also significant because it boasts the greatest percentage of self-penned songs of any of 1D's albums yet; Niall Horan, Liam Payne, Harry Styles and Louis Tomlinson have writing credits on a combined 14 of the 17 tracks, proving their potential staying power as not just crooner heartthrobs, but pop songwriters as well.
This evolution hasn't happened overnight. Over the past two years, 1D has slowly established a pattern of picking up inspiration from rock history, and positioning a modern hit-making filter atop these influences before packing them up and releasing them each November like clockwork. Before the release of their third album, 2013's Midnight Memories, One Direction's sound was difficult to define. They were a pop act, of course, but since forming at the hands of Simon Cowell on The X Factor in 2010, they spent a few years adhering to Top 40's "genre spaghetti" approach: throwing everything at the wall and seeing what would stick.
Songs on their 2011 debut, Up All Night, veered wildly from the pop perfection of "One Thing" to an unsettling banger in the form of "Stole My Heart." As Harry, Louis, Liam, Niall and Zayn (miss you) evolved out of their bow ties and braces around the time of 2012's Take Me Home, their sound grew up with them, via Ed Sheeran's sensitive ballads ("Little Things," "Over Again") and the slightly edgy "Rock Me." But like the visual signs of maturity we would watch the group go through, 1D's sound experienced an awkward, pimply stage before suddenly sprouting chest hair on 2013's Midnight Memories. The pop record's best moments were its songs rooted in '70s and '80s rock and folk, though others would give that title to the sexual innuendo that kept both smirking teens (and growns; hi!) and their parental chaperones interested during 1D's subsequent world tour. With its opening riff that pays homage to (or rips off, depending on whom you're asking) The Who's "Baba O'Reilly," lead single "Best Song Ever" showed out the gate that Midnight Memories marked a new, Rolling Stone–reading chapter of the band; "Does He Know" backed up the claim with its uncanny resemblance to Rick Springfield's "Jessie's Girl." From there, they were ready to go hard on the '70s and '80s rock influences, leaning heavily on anthemic sounds to suit the worldwide stadium tours ahead. Four, released almost exactly a year ago, drew from the back catalogs of Fleetwood Mac, Journey, Tears for Fears, Paul Simon, and the Eagles (Niall's beloved favorite band) to great effect. (The band also had writing credits on 13 of Four's 16 tracks.)
Like many boy bands and reality singing competition winners, One Direction have always struggled to establish cred as a legitimate act with songwriting chops. They didn't sweat and struggle for years, they didn't play gigs in grimy clubs with nothing but their conviction, so how can they have anything to write about? How quick we are to forget that those boys on The X Factor, as young as they were, were not blank slates, as evidenced by their disparate audition song choices: Liam chose the jazz ballad "Cry Me A River"; Harry went for Stevie Wonder's "Isn't She Lovely"; Louis picked the zeitgeist-y "Hey There Delilah"; Niall performed Ne-Yo's "So Sick." (In an indication of what we'd come to know as his genre preference, Zayn sang Mario's heartfelt R&B hit "Let Me Love You.") They were sponges for music then, and as the years have gone on, they've continued to absorb inspiration from eras past; taking them, twisting them, shaping them into something new. Made in the A.M. is the ultimate expression of this aspect of One Direction. With one member gone and an obligation-free year ahead (their first in five years, I can't stress that fact enough), they've stuck a flag in the sand that heralds what their sensibilities are now — and unsurprisingly, they owe a lot to the past. With that in mind, here are the key classic rock (and more) callbacks across Made in the A.M.'s standout tracks.
The Verve's "Bittersweet Symphony" + Robbie Williams's "Millennium" = "Hey Angel"
An early mentor and supporter of One Direction while they were just tadpoles in the X Factor pool, Robbie Williams is honored, via his 1998 anthem, in the soaring chorus of "Hey Angel." There's only one place that drum beat came from, though, and it's geographically the same place as half of 1D: the Northwest of England, home of The Verve, and the Tomlinson and Styles families.
The Beatles' "A Day in the Life" + Wings's "Band on the Run" = "End of the Day"
The first of Made in the A.M.'s two homages to Sgt. Pepper's Lonely Hearts Club Band, "End of the Day" borrows its at-times-disorienting verse/chorus change straight from the Paul McCartney playbook. Also, I'm not saying it will be (even though, in some ways, in my heart of hearts, I hope maybe it is?), but if this album were to be One Direction's last, I'd feel comforted to say goodbye with this stellar standout.
Elton John's "Your Song" = "If I Could Fly"
Elton might have set the benchmark, but this slow-burning piano ballad is a slick and contemporary upgrade in the genre of "stoic man tries to outrun his emotionally stunted British-ness by expressing how difficult he finds it to express himself."
Oasis's "Don't Look Back in Anger" + Train's "Drops of Jupiter" = "Long Way Down"
Earlier this year, One Direction's then-stylist Caroline Watson told me that Northern England bands like Oasis and the Stone Roses played a significant role in the way she dressed Louis, and it seems those Britpop legends inspired more than just his look. While I doubt Train will mind me comparing the bridge of "Long Way Down" to their inescapable ode to the best soy latte that you ever had, Noel Gallagher might have a few words to say about the other comparison suggested here. Although, he did go on the record as saying, "Who gives a shit what fucking One Direction do?" so maybe we're chill.
Blue Swede's "Hooked on a Feeling" + Queen and Bowie's "Under Pressure" = "Never Enough"
There's little doubt in my mind that co-writer Niall penned this song's finger-snapping, grunting intro after hearing the Blue Swede classic in Guardians of the Galaxy. (Either that, or he's a late-stage Ally McBeal fan.) Meanwhile, the repetition of "too much, never enough" in the breakdown, along with Liam's falsetto screams of "Come Owwwn!" peppered throughout, feel like they've been pulled direct from Freddie Mercury's stores of glam-rock confidence.
The Beatles' "With a Little Help from My Friends" + "Pure Imagination" from Willy Wonka and the Chocolate Factory = "Olivia"
Harry, who wrote this incredible and inevitable earworm, insisted in videos played during Made in the A.M. listening events, that "Olivia" is more a concept than a person; essentially short-hand for a place or person you feel compelled to return to. He might deny a human inspiration, but there's no doubt about its lyrical origins in Willy Wonka (pre–nightmare trip boat ride) and musical inspiration in the Sgt. Pepper's classic.
Fleetwood Mac's "Little Lies" and "Dreams" = "What a Feeling"
It's actually unbelievable that Harry didn't have a writing credit on this Fleetwood Mac–inspired track, considering his well-documented love for the band and alleged pen-pal friendship with Mick Fleetwood. Maybe the song was his band members' gift to him, like a homemade cake was his gift to Stevie Nicks on her birthday (really) (Harry, never change).
Boston's "More Than a Feeling" + Bryan Adams's "(Everything I Do) I Do It For You" = "Love You Goodbye"
It's a genuine shame the band won't tour this album, because this is a track that seems destined and written specifically for that stunning shift from tender, whispered sensitivity to belting balladry — a move One Direction has perfected in their massive stadium shows. You can just see the inevitable dancing spotlights as those first cymbal crashes roll in.
The Strokes' "Someday" + Kings of Leon's "Sex on Fire" = "Temporary Fix"
Last year it was "No Control," while this year the One Direction thirst trap is called "Temporary Fix." It might be a little more subtle, lyrically, than "Sex on Fire" (which, according to Niall, was its direct influence), but there's no mistaking what that little Irish horndog is saying when he writes about waking up in his T-shirt, climbing over backseats and, wanting to "touch you where your heart is."
Paul Simon's "You Can Call Me Al" = "Walking in the Wind"
Harry's been pretty vocal about this track being an adoring ode to Graceland. I'm just putting this idea into the universe: Should 1D make a fourth appearance on Saturday Night Live, Lorne Michaels would be missing a real delightful opportunity by not asking his BFF Paul to perform a duet with 1D, à la last year's Ronnie Wood cameo.
Billy Joel's "The Longest Time" + Queen's "Crazy Little Thing Called Love" = "Wolves"
Even when Liam assumed the role of dependable vocalist, carrying nearly every song on One Direction's early records, and Zayn was wheeled out to perform every round of vocal acrobatics, the band's bread-and-butter was in their five-piece harmonies. Now down to four, they're still committed to offering up a serving of sensitive masculinity with a side of doo-wop harmonizing (replete with "oohs" and finger snaps).
Bruce Springsteen's "Thunder Road" + Coldplay's "The Scientist" = "A.M."
Bruce might've been counting down the hours 'til he and Mary could pull out of this town full of losers, but on this bonus track, all four of the 1D boys are promising to return someday. This isn't the first time they've drawn from Chris Martin's back catalog, either, but they're significantly more confident, skilled, and well-dressed than they were the last time.