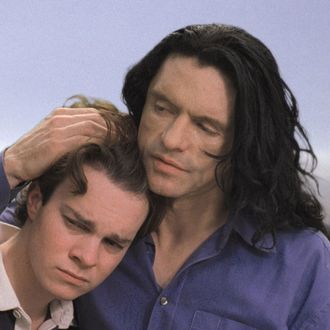 Poor Denny.
Photo: TPW Films
Given Tommy Wiseau's well-documented weirdness, it's a miracle The Room ended up making even the brief sliver of sense that it does. In The Disaster Artist, Greg Sestero attributes this to the hard work of the movie-script supervisor, and he's been selling copies of the original Room script to prove it. Over at Splitsider, Nathan Rabin writes that he's gotten his hands on one of these scripts, and reveals, to no one's surprise, that it is completely bonkers. Some highlights:
Denny is out, as is Chris-R and the "me underwears" guy.
Wiseau's original draft is reportedly free of the bizarre side-plots that make The Room so Room-y, but this does not make the movie any less weird. In Rabin's telling, the absence of any buffers from the Johnny-Lisa-Mark love triangle only makes the film more "claustrophobic and oppressive," with no goofy antics to distract from Wiseau's stultifying misogyny. Peter fans will be glad to know that he's still here, nabbing a promotion to Mark's "best friend." (In this version, Mark is capable of having two best friends.)
The syntax is even more garbled.
Wiseau's unusual talent with the English language has given Room fans plenty to savor. And yet in the original script, things were apparently much worse. A sampling: 
Lisa, while fighting with Johnny: "Here is your coffee and English muffin and burn your mouth."

Johnny: "Old Man Donkey lets me know today. I have to think about our future."

Lisa, seducing Mark: "

I like how you put [your] sexy hands around my body. You excite me so, and I love you."

Peter: "

My advice to you is that you should stop thinking about her and never do sex with her."
That infamous breast-cancer line gets a follow-up.
Why does the movie introduce Claudette's breast-cancer diagnosis, and then never bring it up again? It must be a casualty of the heroic script supervisor's efforts to wipe out every other instance of breast cancer in the original version. As Rabin reports, "In this draft, breast cancer also comes up regularly, always with the caveat that these days cancer is no big deal and everyone is beating it."
Johnny finds out about the affair much earlier.
With no distracting B-plots, this version of the script runs to a slim 75 pages. And just like a Shakespearean tragedy, the crucial turn occurs around the halfway point, when Johnny overhears Lisa confessing her affair to Claudette. He spends the last half of the script secretly taping her phone calls in what Rabin calls "a Nixonian frenzy of paranoia."
There are no sex scenes, unless you count a scene where Johnny masturbates on Lisa's red dress.
The original script fades to black before Wiseau has the chance to show off Lisa and Johnny's sex life, but it somehow manages to find something even more disquieting to go in its place, in a scene where Johnny literally has sex with Lisa's famous red dress:
(SUDDENLY HE STARES INTO THE CLOSET. HE REACHES IN AND PULLS OUT A SEXY NIGHTGOWN. HE HOLDS IT AT ARM'S LENGTH.)

You tramp! You tramp!

(HE THROWS IT DOWN ON THE FLOOR. HE REACHES IN AND PULLS OUT MORE OF LISA'S CLOTHES AND THROWS THEM ON THE FLOOR. HE LIES ON THE CLOTHES, UNZIPPING HIS ZIPPER. HE IS BREATHING HARD AND WRITHING WITH PELVIC THRUSTS)
Anything for his princess!