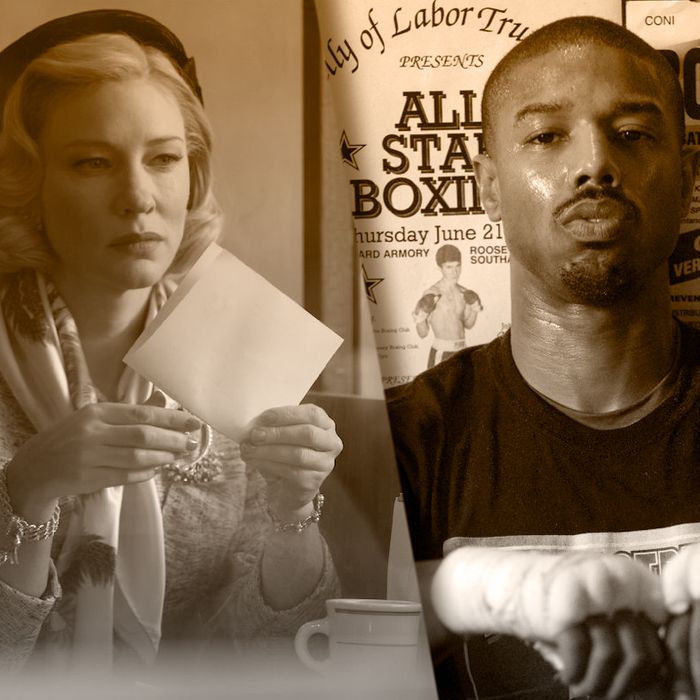 Photo: WEINSTEIN COMPANY/Warner Bros
Every week between now and January 14, when the nominations are announced, Vulture will consult its crystal ball to determine the changing fortunes in this year's Oscars race. Check back every Friday for our Oscar Futures column, where we'll let you in on insider gossip, confer with other awards-season pundits, and track industry buzz to figure out who's up, who's down, and who's currently leading the race for a coveted Oscar nomination.
This week also features the debut of "The Awards Show Show," where I will be talking with John Horn, host of the KPCC radio show and podcast "The Frame," about the Oscar-season landscape.
Best Picture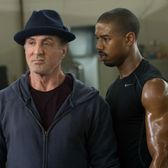 Creed
Not to get all Gene Shalit on you, but Creed (which just started screening) is a total knockout. This savvy remix of the original, Oscar-winning Rocky is likely to be a populist hit at the box office, and while we've already got one of those in the race, Creed packs more of an emotional wallop than The Martian. The movie will have every straight man weeping and cheering, and it absolutely shouldn't be counted out.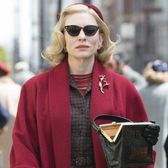 Carol
This immaculate same-sex romance was a huge hit last May at Cannes, and the Weinsteins have smartly flown it under the radar since then so it wouldn't peak before this weekend's release. Reviews are rapturous, and while I've talked to industry types who found the film a bit chilly, the people who love it really love it, and their passion should go a long way.
Current Predix
Brooklyn, The Danish Girl, Inside Out, Joy, The Martian; The Revenant, Room, Spotlight, Steve Jobs, Youth
Best Director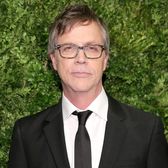 Todd Haynes, Carol
Haynes is widely regarded as one of our most intelligent auteurs, but he's never won a major film or TV trophy, and the only Oscar nomination he's received is a screenplay nod for Far From Heaven. With Carol, he has his most direct Academy play yet, and there's a sense his time has come. Could he be the smart dark horse for a directors branch that likes to sneak in some surprises?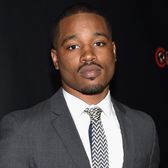 Ryan Coogler, Creed
Hollywood Reporter editor Stephen Galloway took a lot of heat this week for the all-white actress roundtable he put together, and in a mea culpa letter, he admitted that he overlooked Straight Outta Compton helmer F. Gary Gray for THR's equally monochrome directors panel. But what about Coogler, who wowed critics with his first film, Fruitvale Station? Coogler's work on Creed is no journeyman homage: He stages some of the freshest, most thrilling boxing sequences ever put to film, including a single-take fight that will have everybody talking.
Current Predix
Lenny Abrahamson, Room; Alejandro González Iñárritu, The Revenant; Tom McCarthy, Spotlight; David O. Russell, Joy; Ridley Scott, The Martian
Best Actor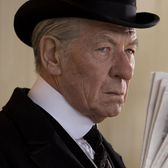 Ian McKellen, Mr. Holmes
Is anyone working the awards-season circuit as hard as McKellen? The 76-year-old actor has been omnipresent over the last two months, giving copious interviews, stealing the spotlight at lunches and cocktail parties, and staging special events in Los Angeles like a conversation with Guillermo Del Toro and a monologue of all of the leading ladies he's worked with. Can it move his summer success Mr. Holmes to the top of voters' screener piles?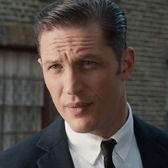 Tom Hardy, Legend
Hardy gives two performances for the price of one as criminal twins in Legend, but bad buzz sank the movie on the festival circuit, and now it's being released into theaters with little Oscar heat. At least the well-respected Hardy has The Revenant yet to come …
Current Predix
Matt Damon, The Martian; Johnny Depp, Black Mass; Leonardo DiCaprio, The Revenant; Michael Fassbender, Steve Jobs; Eddie Redmayne, The Danish Girl
Best Actress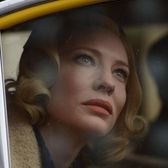 Cate Blanchett, Carol.
With Truth now firmly in the rear-view mirror, the path is clear for Blanchett to earn her sixth Oscar nomination for her swoon-y work as a glamorous lesbian in Carol. As our critic David Edelstein said, Haynes has calibrated Carol "so precisely to Blanchett's talents that he couldn't have rendered her better with animation."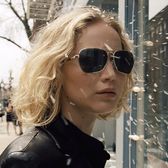 Jennifer Lawrence, Joy.
Lawrence never got her awards-season due for what she's managed with her Hunger Games heroine Katniss Everdeen, but the series-ending Mockingjay - Part 2 puts her through the wringer and should at least be taken in toto with the more Academy-friendly Joy.
Current Predix
Cate Blanchett, Carol; Brie Larson, Room; Jennifer Lawrence, Joy; Charlotte Rampling, 45 Years; Saoirse Ronan, Brooklyn
Best Supporting Actor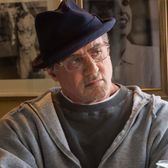 Sylvester Stallone, Creed
Stallone's got an irresistible Oscar narrative here: Twice nominated for 1977's Rocky (he lost for acting and writing, though the movie won Best Picture), he returns to his iconic role of Rocky Balboa for a soulful turn in Creed that could finally clinch the deal. Stallone is so good as the ailing-but-resilient Rocky that you might not even notice how many Academy-friendly boxes this performance checks (including a tearful monologue and a struggle against a debilitating medical condition). Voters love a comeback, and with this one, Stallone delivers.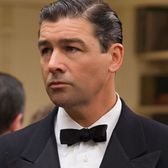 Kyle Chandler, Carol
As Blanchett's estranged husband, Chandler is very, very good in Carol, and deserving of attention. But he'll have to rely on a Carol wave to sweep him into what is turning out to be this year's toughest category to crack.
Current Predix
Benicio Del Toro, Sicario; Tom Hardy, The Revenant; Mark Ruffalo, Spotlight; Sylvester Stallone, Creed; Jacob Tremblay, Room
Best Supporting Actress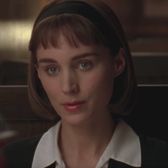 Rooney Mara, Carol.
Are the Golden Globes pushing back against category fraud? The Hollywood Foreign Press ruled last week that neither Mara nor The Danish Girl's Alicia Vikander can be considered a supporting actress, since both women are clearly the leads in their films.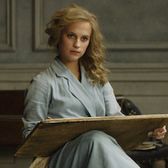 Alicia Vikander, The Danish Girl.
Will the studios take the hint, then, and try to push Mara and Vikander for Best Actress, where they belong? Or will they accept that the Globes have muddied the water on this issue and simply pray that Oscar voters are more obedient, ultimately placing Mara and Vikander in a supporting category where they have putatively weaker competition?
Current Predix
Jane Fonda, Youth; Jennifer Jason Leigh, The Hateful Eight; Rooney Mara, Carol; Alicia Vikander, The Danish Girl; Kate Winslet, Steve Jobs