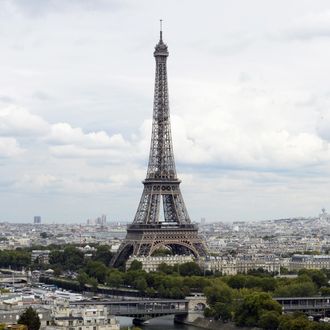 The Eiffel Tower has reopened.
Photo: Miguel Medina/Getty Images
Cultural monuments and institutions including the Louvre, the Eiffel Tower, and the Notre Dame Cathedral, as well as movie theaters, reopened Monday at 1 p.m. local time following the devastating terrorist attack in Paris that killed at least 129 people. (Some museums, like the Musée d'Orsay, which normally closes on Mondays, remain closed.) The country's largest theater chain, Gaumont-Pathé, also reopened, and television stations have resumed their regular programming Monday. "In tragic moments that pass over France, culture is more than ever the symbolic place of discovery for oneself and others," Culture Minister Fleur Pellerin said in a statement issued Sunday night. The country also observed one minute of silence at noon in remembrance of those lost in the attacks.