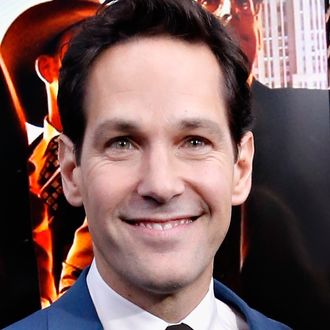 Paul Rudd.
Photo: Cindy Ord/2013 Getty Images
Duncan Jones's next big sci-fi project, Mute, has snagged lead actors in the form of Alexander Skarsgård and Paul Rudd, according to reports. Variety notes production starts in March for the film about a mute bartender on the hunt for a woman in futuristic Berlin. "I've been working towards making Mute for 12 years now," Jones said in a statement released to the media. "I cannot tell you how thrilled I am that we're finally going to shoot this utterly unique film." Here's the full, official synopsis, which has a surreal Crying of Lot 49 feel to it (via io9):
Berlin. Forty years from today. A roiling city of immigrants, where East crashes against West in a science-fiction Casablanca. Leo Beiler (Skarsgard), a mute bartender has one reason and one reason only for living here, and she's disappeared. But when Leo's search takes him deeper into the city's underbelly, an odd pair of American surgeons (led by Rudd) seem to be the only recurring clue, and Leo can't tell if they can help, or who he should fear most.
Jones and Mike Johnson reportedly had hands in the script, and Stuart Fenegan is attached to produce. Other logistical details for the film are currently under wraps, but you can bask in the concept art here for the meantime.