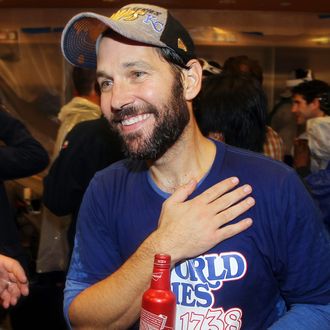 Rudd!
Photo: Brad Mangin/Getty Images
If only to further rub it in that the Mets lost the World Series on Sunday, Paul Rudd put on his Kansas City Royals swag and partied with the winning team in their clubhouse for their first World Series win in 30 years. Having proven himself as a fan last year, when he celebrated the Royals' American League pennant win and joked about throwing a party at his mom's, this year, he took part in the greatest winning-sports-team tradition: getting showered in alcohol.
As you can see below, after chanting that he was way too dry to be celebrating appropriately, Rudd was doused with beer, and when it's all over, he manages to look like the best version of himself. He should always be drenched in beer.