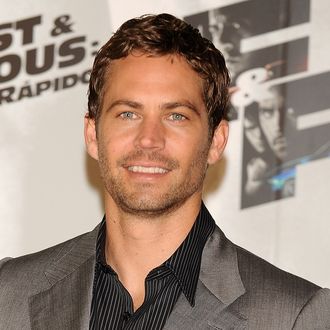 Photo: Carlos Alvarez/2009 Getty Images
In a lawsuit filed Wednesday, Paul Walker's father Paul William Walker III claims that Porsche Carrera CT the actor was driving during a 2013 crash that led to his death lacked safety features, and that the automaker knew the model had a history of instability and control issues, according to the Associated Press. Many of these claims reiterate those made in other lawsuits over the crash, including one made by Paul Walker's daughter, Meadow.
Porsche has not yet commented on the new suit, but has previously responded to Meadow Walker's claims by maintaining, in documents filed to the L.A. Superior Court, that the Fast & Furious actor was aware of the car's risks, and that what happened in 2013 was his "own comparative fault." An earlier police investigation determined the cause of Walker's death to be speeding. Despite this, the new lawsuit claims that, "absent these defects in the Porsche Carrera GT, Paul Walker would be alive today."
Walker's father's lawsuit is joined by similar claim filed today by Kristine Radas, widow to Roger Radas, Walker's friend and business associate who was driving when the car spun out of control in Santa Clarita, California. None of these cases have yet been set for trial.