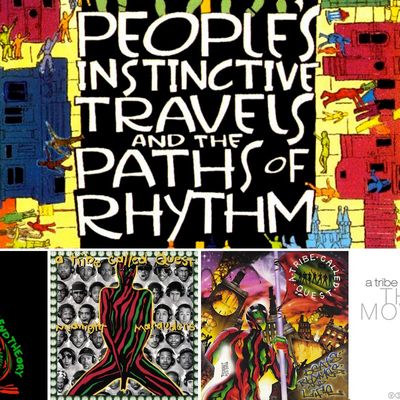 If you ask someone to name the biggest moment in hip-hop this year, they'll likely point to the ghostwriting beef between Drake and Meek Mill. I disagree. The biggest moment in hip-hop this year was when a photo of Malia Obama sporting a Pro Era shirt hit the internet, and everyone lost their minds (and the First Daughter lost her social-media privileges) because a group of 20-something-year-old rappers from Brooklyn had managed to bypass the Secret Service by way of a selfie. Malia, of course, is the future, but with her Pro Era cosign she suggested that respecting the old-school elders of hip-hop's golden age — the late '80s/early '90s style Pro Era is credited for reviving — is a must for the next generation of tastemakers.
One of the essential albums of this period is People's Instinctive Travels and the Paths of Rhythm, the 1990 debut from A Tribe Called Quest. This year the LP turned 25, making it eight years older than Malia Obama, and to celebrate Sony is rolling out a special anniversary edition (including new remixes by Pharrell, J.Cole, and CeeLo). It's out today, and tonight all four members of the group (Q-Tip, Phife Dawg, Ali Shaheed Muhammad, and Jarobi White) will reunite for a performance on The Tonight Show.
"Life is a cycle, and certain things are always going to come back around, especially if people cherish them like they cherish the golden era," Phife tells Vulture. "You're going to see more and more people doing what Kendrick Lamar and Chance the Rapper are doing, but I don't think a lot of MCs have the skills to bring it back to what it was. There's only a few: Chance, Kendrick, the Pro Era Crew, Joey Bada$$, J Cole. There are definitely a few out there who can pull it off." In addition to celebrating the anniversary of People's, Phife is working on a nine-song solo EP called Give Thanks, as well as a full-length called Muttymorphosis, both slated for 2016. We caught up with him to talk about a few of his favorite songs in the Tribe catalogue, and for good measure, we asked him to weigh in on the ghostwriter debate too.
On one hand, many fans these days don't care. "In the golden era, they cared," Phife says, "but now, I mean, look at the music that's out right now. Everybody sounds like Future, there are about 12 dudes who sound like him right now. I really don't think the fans care [about copycats] because they be singing all those songs word for word."
That said: "I don't see anything wrong with ghostwriting, but you can't have a ghostwriter and stick your chest out there like you No. 1 because then it's like, No. 1 in what — selling records? Making hits? Don't call yourself the No. 1 MC when you have somebody writing for you. Don't walk around here like you Jay Z or you Nas. You can't really do that." 
"Footprints," People's Instinctive Travels and the Paths of Rhythm (1990)
"I wasn't at a lot of the sessions on the first album. There were a few I was there, but I can barely remember which ones they were. Lyrically, Q-Tip is pretty much genius on this one. And I love the Stevie Wonder sample, the way he flipped it and the drums. I didn't pick 'Bonita Applebum' [also from People's Instinctive Travels … ] because I was always into album tracks and not necessarily singles. You need something to push the whole opus. I like when people dig into the whole album and not just scratch the surface because of the single."
"Check the Rhime," Low End Theory (1991)
"We were absolutely in the studio for this one. It just sounded like we were Siamese twins, we were so in tune. It sounded like Tip could finish off a sentence and vice versa, and that's really what made Tribe Tribe. 'Check the Rhime' showcases A Tribe Called Quest for what we really are. I wasn't originally a member of Tribe on the first album; I didn't sign on to be a member until the middle of recording Low End Theory, but as far as chemistry, it's always been there because I've known Q-Tip since we were 2 years old. The chemistry was always there."
"Lyrics to Go," Midnight Marauders (1993)
"First of all, Minnie Riperton probably had the greatest voice that ever lived. Two, the way Q-Tip sampled this song [Riperton's 'Inside My Love'] and was able to incorporate it with the drums, that was crazy. I wish I had been able to think of that. There's a sustained note that carries on throughout the song, and it's a crazy idea that I'm surprised no one else had been able to think of. Tip thought of it, and he's the man for that, most definitely."
"Wordplay," Beats, Rhymes and Life (1996)
"J Dilla produced this. He wasn't at the actual session, but it was myself, Q-Tip, and Consequence, just being in the control room freestyling, and eventually writing, and then going in the booth and laying it down. One person would lay in the vocals, then I'll come in and fill in the blanks, and then Consequence would fill in the blanks, and then it just came out like voilà. It's a dope record because J Dilla is known for his drums, kicks, snares. The bass line is crazy. Most of the time when I say that I like something, it's usually because of the production and the bass line. If I don't like a beat, I usually don't give it no time of day. I won't even listen to the lyrics. Once I'm into that beat, I'm going to listen to every nook and cranny of that production."
"Find a Way," Love Movement (1998)
"J Dilla is just the man, period. I love the beat, the tempo, the bass line, and the way we made up our own hook and made everybody think that the lady was really saying that [a woman's voice echoes the hook in this song about crossing over from friendship to sex]. That's like my favorite Tribe record ever. Period. The chemistry on the record is reminiscent of 'Check the Rhime' even though the subject matter may be different."