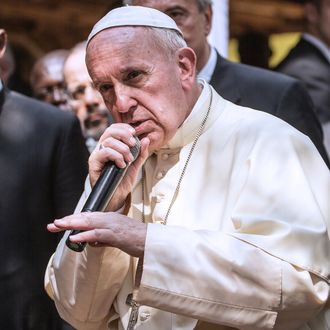 Photo: GIANLUIGI GUERCIA/AFP/Getty Images
Back in 1990, Madonna had to chant "strike a pose" to encourage a dramatic mise-en-scène, but in the days of Twitter fingers, any and every pose can become a meme, dramatic or not. Lucky for Pope Francis, or us, really, he often creates poses that make you think he's about to drop bars — for the uninitiated, that means to spit lyrics or simply rap. Every few months, the Pope delivers a new pose that can be interpreted this way. In the halcyon days of tax-refund season, it was this:
But now the meme has grown widespread under the hashtag #PopeBars. Even Lin-Manuel Miranda and Ta-Nehisi Coates got in on the action.
And Kerry Washington found it extra amusing, but probably just because she plays Olivia Pope on Scandal and was hoping some Gladiators might get in on the action.
Well, here you go, Liv.