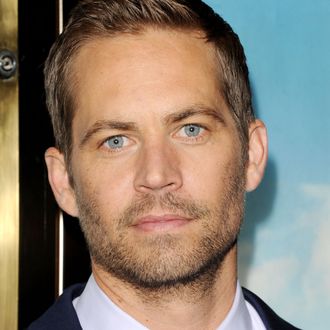 Paul Walker.
Photo: Stuart C. Wilson/2013 Getty Images
Porsche and its legal team have responded to Meadow Walker's wrongful-death suit from September by denying her allegations. The company filed its defense in L.A. Superior Court last week, maintaining that Fast & Furious actor Paul Walker was aware of the car's risks, and that what happened in 2013 was his "own comparative fault." In the initial suit, Meadow and her team had wanted to hold Porsche accountable, claiming the Carrera GT her dad died in was riddled with safety defects and was unfit for the road. Porsche has conceded the vehicle was "abused and altered after being placed into the stream of commerce," according to the filing, but won't accept blame for the Carrera being "misused and improperly maintained."
The car manufacturer added, according to the docs, that "Mr. Walker's voluntary assumption of the risk should bar the plaintiff's recovery or, in the alternative, should reduce the plaintiff's right to recovery from [Porsche's] in an amount equivalent to Mr. Walker's fault." The wording of Porsche's response mirrors the one the car manufacturer gave earlier this year to the wife of Roger Rodas (the driver in the crash). Gawker notes that both Meadow and Porsche are now seeking a jury trial.