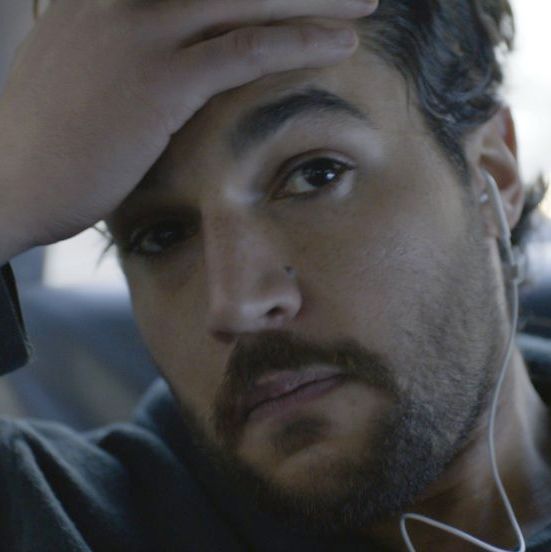 Photo: Courtesy of Picturehouse
By the end of James White's 85 minutes, you will know every last detail of Christopher Abbott's face: how it looks, how it moves, how it registers all of the emotions that you or I are capable of having. It's the first thing you see, bleary and wired, at the movie's beginning, the camera with Abbott in close-up, so tight it feels invasive. And at the end, after his character has been wrung out, Abbott looks a lot like you probably feel: distraught, exhausted, but a little amazed by the stuff of what just went down — sort of a life's journey in concentrate.
Written and directed by Josh Mond, a member of the Borderline Films collective — which has also been responsible for Martha Marcy May Marlene and Simon Killer — James White tells the deeply personal story of a mother, played masterfully by Cynthia Nixon, succumbing to cancer. Her son James, played by Abbott, must reconcile his own anger and aimlessness with how much his mother needs him. A great film in its own right, it also marks a rare kind of event, which is the point when a promising young actor fulfills his promise. In James White, Abbott gives one of the best and most exciting performances of the year. The fact that he used to be a regular on Girls, the part he's best and mainly known for, playing a character miles and miles away from James — this only makes it more interesting.
"It feels like a milestone in the sense that I'm the lead in a movie, I'm in every scene of a movie, and I'm supposed to quote-unquote 'carry a film,' though I never felt like I had to carry a film — everyone was doing their jobs, and everyone was great at their jobs," Abbott told me over beers at the Four Seasons in L.A. He's just finished a press day for the film, and in a T-shirt and jeans, with the athletic torso of a former linebacker, he's far closer to his part in James White than he is Charlie, the boyish sad-sack he played on Girls, a suggestion with which he agrees. "And it feels like a milestone in that it's a rare opportunity to get to make a film with your dear friend, something that you're actually proud of."
Abbott came to acting late, taking a few classes by chance while attending community college near where he grew up in Norwalk, Connecticut. After discovering he had both an aptitude and an appetite for it, he began studying in New York, where he worked his way into the theater world. Once he made his feature debut in 2011's Martha Marcy May Marlene, during which he met many of the people he now considers his closest friends, including Mond, the roles came faster: He played the love interest of Melanie Lynskey in Hello I Must Be Going; he played the lead in his friend Carlos Puga's All That I Am, which co-starred Gaby Hoffmann; he played the lead opposite his friend Brady Corbet in Mona Fastvold's well-liked indie The Sleepwalker; and he had a small part in J.C. Chandor's A Most Violent Year. But eclipsing all that was his involvement in the show that launched a thousand think pieces.
Considering the focus that has been rightly given to the four young women who play its leads, Girls' success at uncovering terrific young American actors — a stock that, some would argue, is in short supply — is pretty fascinating. First there was the astonishingly charismatic Adam Driver, who went, in record time, from being the weirdo love interest of Lena Dunham's character Hannah to a (bad guy?) lead in the new Star Wars. Abbott played Charlie, Marnie's nebbishy, emasculated boyfriend/ex-boyfriend, but he left the show after season two to return to theater, telling the New York Times that, though Dunham had created a very real version of New York, he couldn't much relate to it. Although he left the show four years ago, it follows him literally to this day.
"Because of the style of the show, it's so relatable to that generation of young people, and they kind of feel like everyone on the show was just being themselves. That's not the case — not just for me, but for almost everybody. Everybody's playing a character," he says. "I've accepted it, I'm not bitter about it, but I — as an actor, you want to be able to play different things, and truthfully, at the time, I had worked in a bunch of theater and done these films, and part of me was like, 'Well, fuck, this is the only thing that people will know me for? What about this and this and this?' And you start to learn, you can't blame anyone: It's HBO, it's seen. A lot of the work I'd done up to that point hadn't been seen by many people. So I accepted it. I'm not working against it, I'm just playing different things, and a movie like James White — I would've done this anyway."
Abbott's dilemma has been a common hurdle for actors since the earliest days of TV: You play a role for years, and audiences come to know you as that role. There's no next movie; there's just next season. With recap culture and the ascendance of prestige television, that sense of familiarity has only sharpened. You don't just spend one session a week with your favorite TV character; you read constantly about their significance, both to the show and society at large.
But it doesn't take long for James White to erase any sense of Charlie. Abbott's performance as James is volcanic and physical, reminiscent of how Joaquin Phoenix and Peter Falk, a leading member of John Cassavetes's ensembles, tend to teeter between sanity and violence. Abbott describes it as toeing a line: On the one hand, you try to be entertaining, magnetic enough for the screen; on the other, you want to make the audience wonder how that frenzy, that overflowing of emotion, could possibly not be real. He cites both Phoenix and Falk as actors in that vein, as well as Tom Hardy and Will Patton, an actor who's appeared in multiple Kelly Reichardt movies.
In a way, Abbott's style feels like a callback to the 1970s, when actors tended to explore the upper registers of emotion, spurred on by pugilistic "auteurs" with control that few directors have now. Put next to the muted cool and quirk that can characterize American indies, this intensity seems productively, refreshingly anachronistic. But it's also risky and difficult to play a character like that, and as Miles Teller has found in the year-plus since Whiplash, the press doesn't always respond well to that persona. It's ironic: Acting is an inherently bravura art, but often, actors can be punished for showing the confidence fundamental to that bravura. Abbott's departure from Girls was such a move — leaving behind the highest-profile role he'd ever had to return to theater and indies. What kind of confidence did that take?
"I do try to be humble about it — this is just being taught morals growing up. But you fucking have to have some confidence if you're going to do this right," Abbott says. "I think I have a healthy amount of confidence, but I think I use all that energy just for when I'm working on something. I have an ego, that's for sure, but everybody does. It's a job that has vanity in it, but you want to show off — but for the right reasons. In James White, there's a part of my brain that wants to show off, but while filming it, and I'm being sincere in saying this, I wasn't showing off for the end product — I was showing off because I'm doing a movie for one of my best friends about a somewhat autobiographical thing of him losing his mother. I feel a responsibility as a friend to do the best job that I can do and do my homework, and in that way I want to show off."
How Abbott has gone about his career is also a vote of confidence in film. James White is a powerful example of cinematic potency, of telling a months-long story over the course of two hours. It packs maximum firepower into a well-tailored package, and because of that density, certain scenes — like one Abbott shares with Nixon late in the movie, during which he describes to her a heartbreaking fantasy life — can become fulcrums of emotion, devastatingly deliberate. And while he may not yet be known for his films, Abbott doesn't believe this is a coincidence.
"I'm not anti-TV, but I've heard a lot of people say TV is the new, better format, and I'm not onboard with that," Abbott says. "I really have not seen a lot of TV shows, so maybe my opinion is not that educated. Anything that anyone talks about, I haven't seen, and that's not an F you to it, but even hearing about all that, I still believe it's not the same. It's just different. It's not all bad or good, but I would never say it's better now. I don't believe it. Films are films."