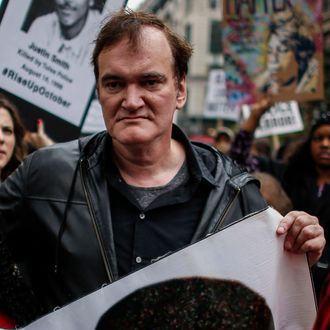 Photo: Kena Betancur/2015 Getty Images
In an ongoing publicity campaign that's sprung up in response to a police boycott of his films after the director appeared at an anti–police brutality rally, Quentin Tarantino went on Real Time With Bill Maher last night to speak out against allegations that he is a "cop-hater," which he referred to as "slander." "They're implying that I meant that all cops are murderers," he said, "And I wasn't."
Tarantino went on to clarify that he does believe that police brutality is a serious issue, one that's exacerbated by the police force's inability to locate and remove cops who are abusing their privileges. He criticized "blue wall" tactics, wherein officers would "rather protect their own," according to the director, than work for the betterment of citizens. "If they were really really serious about this," he said, "they wouldn't close rank on what I'm obviously talking about, which is bad cops."
Tarantino gave similar statements to the L.A. Times and on MSNBC earlier this week.
Maher compared the Police Union's actions against Tarantino, which have escalated to the point of an ominous threat toward the director, to the criticism he faced after making controversial comments in the wake of 9/11. "People got upset about what I said, which is okay, but then they lied about it," Maher said, drawing a comparison between himself and the Hateful Eight director.
Watch the full interview below. And for more controversial Tarantino opinions, watch his appearance at Maher's roundtable, where he argues that we're only in a silver age of television, and that TV in the '70s was better than it is today.