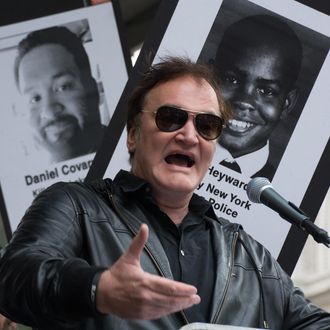 Quentin Tarantino at the fateful rally.
Photo: M. Stan Reaves/Demotix/Corbis
In his first remarks since police unions across the country announced a boycott of his films, Quentin Tarantino slammed the campaign against him as a cynical move to shift the focus from police brutality. The trouble began on October 24, when the director spoke at a rally against "police terror" in New York City, saying, "I have to call a murder a murder, and I have to call the murderers the murderers." The NYPD's Patrolmen's Benevolent Association criticized the timing of the remarks — which occurred four days after an officer was killed in Harlem — and called for a boycott of Tarantino's films, which soon went nationwide. Now Tarantino tells the L.A. Times his remarks have been purposefully misconstrued. "I'm not a cop hater. That is a misrepresentation," he told the paper, adding that he never said all cops are murderers.
"What they're doing is pretty obvious," Tarantino said. "Instead of dealing with the incidents of police brutality that those people were bringing up, instead of examining the problem of police brutality in this country, better they single me out. And their message is very clear … It is to shut my mouth, and even more important than that, it is to send a message out to any other prominent person that might feel the need to join that side of the argument."
Tarantino also appeared on MSNBC's All In on Wednesday evening to further discuss the backlash, explaining that he attended the rally because he wanted to help Rise Up October properly memorialize victims of police brutality.
"There are a lot of statistics going around about how many people have been killed by the police, but we want them to stop being numbers. We want them to stop being statistics and start being people — who were once living and breathing, and are now dead," he said. "The idea was to go there and to say their names and to show their pictures and to send the families over to New York and tell their stories about what happened — and really for us to bear witness to those stories."
In another portion of his interview with Chris Hayes, Tarantino said cops were slandering him and underlined that he's not a "cop hater":
In response, Patrolmen's Benevolent Association president Patrick Lynch had told THR earlier that the Tarantino boycott would continue: "If he doesn't want to face a backlash, he should choose his words more carefully in the future. Meanwhile, police officers will continue to express their own outrage at the box office."
Update: You can watch Tarantino's latest interview in full, here: