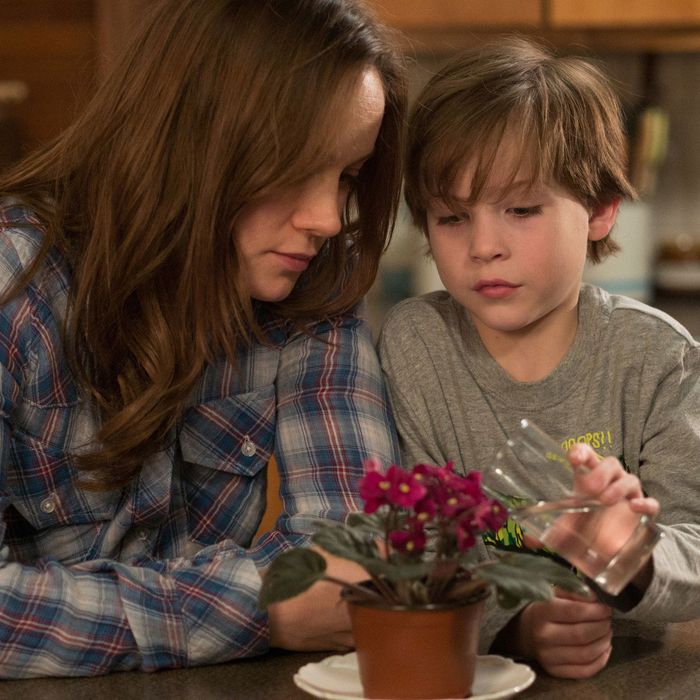 Brie Larson.
Photo: A24 Films
Lucille LeSueur, Leroy Harold Scherer, Jr. Frances Gumm. You'll be forgiven if you don't immediately recognize the birth names of Joan Crawford, Rock Hudson, and Judy Garland respectively. It's not unusual for people to reinvent themselves when they reach Hollywood. In fact, Hudson's agent Henry Willson had a factory of actors in the '50s who came to Hollywood with small-town names and ended up with larger-than-life personas like Tab Hunter, Guy Madison, and Dack Rambo. Which is why it doesn't come as a surprise that in THR's latest vanilla round table, when potential Oscar nominee Brie Larson (for Room) talks about what led her to become an actress, she glosses over her 2005 pop album Finally Out of P.E.:
I had started acting when I was 7, and I was always wrong. I would always get to the very end [of the audition process], but I wasn't a perfect package of one thing. I wasn't a cliche, and it always worked against me. I wasn't pretty enough to play the popular girl, I wasn't mousy enough to be the mousy girl, so I never fit in. And so I'd get close, but I never got anywhere, and it was really painful. And then there was a TV show that Toni Collette was starring in, and Toni Collette was my absolute hero. And when this role came, to play a girl who was struggling with identity and who was a little bit of everything, I thought: "Oh, this is what I was supposed to do. Everything's leading up to this moment." I was 18. I was like, "This is it." And I tested for it, and I didn't get it. And I was devastated.
Granted, an interview with THR isn't the place to discuss an attempted career as the next Ashley Tisdale, but the pop stardom (stardom is a stretch, but who doesn't love hyperbole?) is glossed over in an interview with BuzzFeed's Anne Helen Peterson as well:
"I was so insecure and so hard on myself back then," she explains. "But there was a moment when I started doing the math. It took me two hours to get ready every day — hair and makeup, so many clothes, trying to make sure everything matched really well — and I had this intense epiphany. I realized how much time I was spending getting ready for life — I wasn't actually living it. It was the most terrified I've ever been in my life. So I went in the exact opposite way."
The narrative that Larson decided to throw her pager out the window and tell MCI to cut the phone polls so pop stardom would stop beckoning her to the dark side of caring too much about your appearance rings a bit false, especially coming in the midst of a THR feature where Larson is glossed up and not in fact draped in Old Navy sales-rack sweatpants. But in order to be taken seriously among the likes of Helen Mirren, Cate Blanchett, and Kate Winslet, you probably skip talking about how you gave an in-depth interview to Kidz World about your music-writing process:
I think that I write about stuff that others don't write about. I don't have a bunch of love songs cuz I don't really have much boy experience. I just write about what I am actually going through in my real life. That's where the title from my album comes from - Finally Out of P.E. My P.E. teacher didn't like me at all, which was hard to deal with cuz I was usually such a teachers' pet. So when I found out I got my record deal, I was like, "Yes, I'm finally out of P.E."
But honestly, when we celebrate how much Jennifer Lawrence falls down in public places, why can't we talk about Larson singing over the best pseudo-electronic No. 9 on the TRL charts beats that the mid-2000s could muster? She has her own fucking VEVO account! And it features the video for her surprisingly addictive 2005 single "She Said."
Then there's the acoustic rendition of "Finally Out of P.E.," which could put Nirvana's MTV Unplugged to shame, at least for the sheer fact that its oral history would be far more entertaining.
Unfortunately, despite going on tour with Jesse McCartney for Teen People's Rock in Shop Tour, Larson's album only sold 3,500 copies. This was 2005 as well, when record labels actually expected albums to sell. (For reference, 2005's No. 1 album was Mariah Carey's The Emancipation of Mimi, which sold 404,000 in its first week and, at that point, had the highest first-week album sales in Carey's career.) Larson's pop career took a nosedive and though she promised fans in 2008 on her MySpace that she would be releasing a new EP, it never materialized. Her music career was shuttered largely because the record label had moved on. Larson's next foray into pop music was in the film 2010's Scott Pilgrim vs. the World, where she sung Metric's "Black Sheep" (and was included in a bonus video on the soundtrack).

By then, Larson's career was on an upswing and her role on The United States of Tara led to further work in 21 Jump Street, Short Term 12, and finally this year's Room, which will probably garner Larson her first Oscar nomination. From pop star to Oscar nominee is quite a feat, which should be celebrated and not ignored. Not to mention the irony that Larson could get an Oscar nom in a year when former nominee Hailee Steinfeld did the opposite and released an EP called HAIZ to signal to the world that, sure, THR round tables are fun, but appearing in Taylor Swift videos and singing odes to masturbation like "Love Myself" is just as fun.